Image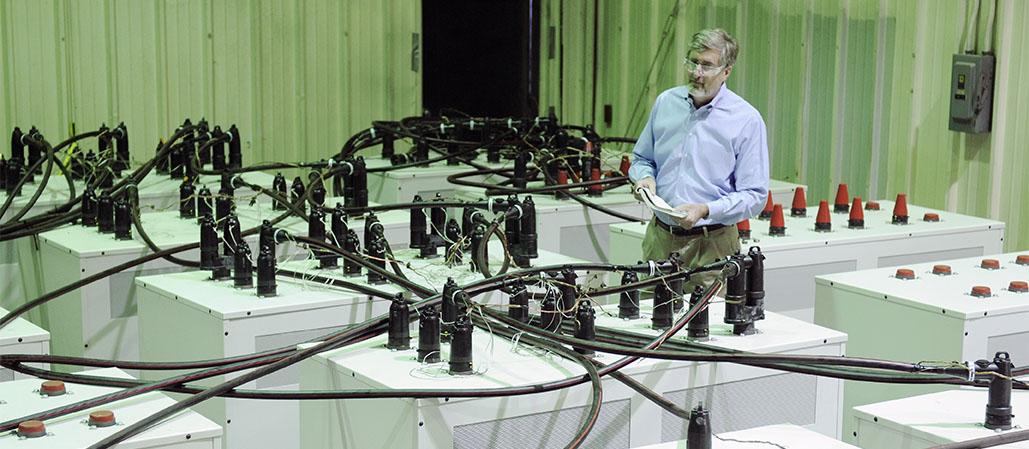 Electrical Energy is primarily concerned with meeting the demand for electric energy in a safe, reliable, secure, cost-effective, and environmentally friendly manner.
ECE offers one of the country's leading undergraduate and graduate academic programs in electrical energy engineering encompassing power systems, power electronics and controls, power apparatus, and photovoltaics. Our programs remain on the leading edge of the ever-evolving technological advances in this dynamic field. 
ECE also offers its graduate students on-going opportunities to work as Graduate Research Assistants or Graduate Teaching Assistants. Virtually all Electrical Energy Ph.D. students receive funding support through teaching or research as well as through their participation in one of the Electrical Energy's research centers.
Research
The Electrical Energy research program is supported by a variety of funding sources including the National Science Foundation, the Electric Power Research Institute (EPRI), Georgia Power Company, Duke Power Company, the National Electric Manufacturers Association (NEMA), the U.S. Department of Energy, the U.S. Department of Defense, and the Steel Tube Institute of North America, and a variety of industry sponsors.
In addition, the Electrical Energy Group is affiliated with two major research centers that offer students opportunities to engage in funded research that enriches their academic experience with direct experience in the electrical energy industry.
Electric Energy Systems are primarily concerned with meeting the demand for electric energy in a safe, reliable, secure, cost effective, and environmentally friendly manner. Electrical Energy research falls within the following major areas:
Power System Protection, Control, Optimization, and Automation
Renewable Generation, Wind, Photovoltaics (PV), and Other
Power Electronics
Power System Simulation and Visualization
High Voltage Engineering
Energy System Cybersecurity
Motors, Generators, and Power Conversion
Silicon-based Microchips and Microsystems
Academics
The depth and breadth of faculty expertise in this area is reflected in the curriculum which provides students with a solid foundation in power systems, energy systems, and power electronics. The graduate program is complemented by courses in Systems and Controls, Electromagnetics, Digital Signal Processing, and/or Telecommunications.
Continuing Education Program
Electrical Energy faculty, in cooperation with industry experts, offer a variety of continuing education courses to practicing engineers on topics of current interest, including the Electrical Engineering Refresher Course for the PE Exam, Power System Protective Relaying, Modern Energy Management Systems, and Power Electronic Devices.
Certificate Program
The Electrical Energy Group also offers a Power System Certificate Program that includes a series of comprehensive short courses covering all major aspects of power system modeling, design, control and operation. All courses are taught by leading experts in the field.
Electrical Energy Faculty Members