Image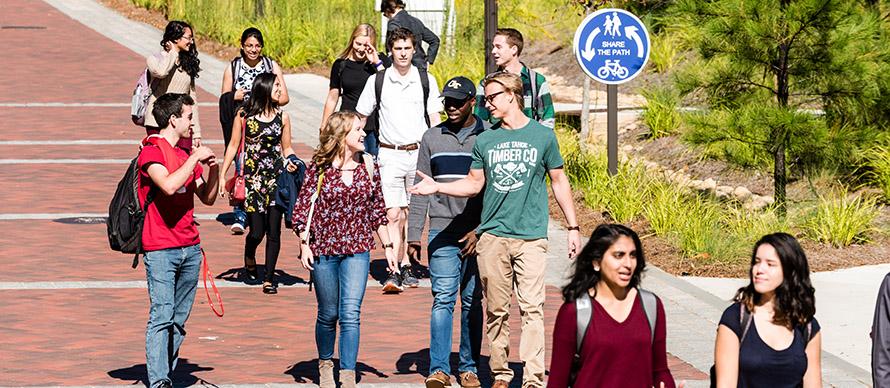 The following information is provided to assist visitors in planning trips to ECE and Georgia Tech and in navigating the campus:
General Visitor Information
Thank you for interest in the School of ECE at Georgia Tech!  If you cannot make one of our scheduled ECE tours then we highly recommend the following alternatives:
Tour the Interdisciplinary Commons (IDC)  - Opened in Fall 2018, the IDC is a state-of-the-art makerspace with technology that allows students to design and prototype virtually anything they can imagine. Contact hive@ece.gatech.edu to arrange a student-led Friday tour.
Visit the Robotarium - The Robotarium project provides a remotely accessible swarm robotics research platform that remains freely accessible to all. Opened on August 22, 2017, the 725-square-foot facility houses more than 100 rolling and flying swarm robots that are accessible to anyone. Learn more about the Robotarium and request a tour.
Dr. Elliot Moore, the associate chair for ECE Undergraduate Affairs, and his office staff can provide valuable information to prospective students and their families. If you have specific questions about our program, please contact undergraduate@ece.gatech.edu to see if it is possible to arrange an appointment on the day of your visit. As always, we look forward to addressing any questions you may have.
Schedule a Tour
Thank you for your interest in Georgia Tech's School of Electrical and Computer Engineering. The School will offer in-person tours during this spring  2024 semester. We will offer in-person tours beginning at 2:00-3:30pm in the Van Leer Building (room E283) and the upcoming dates are listed below.
In-Person Tours 2-3:30PM 
Jan 26 - Fri
Feb 9 - Fri
Feb 16 - Fri
Mar 1 - Fri
Mar 29 - Fri
Apr 1 - Mon
Apr 2 - Tue
Apr 3 - Wed
Apr 4 - Thurs
Apr 5 - Fri
Apr 12 - Fri
Apr 19 - Fri
Virtual Info Sessions 1-1:45PM
Jan 26
Mar 29
Apr 12
Register for In-Person or Virtual Toura Here
If you have any questions, please contact undergraduate@ece.gatech.edu for more information.
Please note each tour hosts a max of 50 participants. 
Attend an Event
We offer several outreach activities for high school teachers and pre-college students of various ages, as well as tours of the ECE research facilities and visits to metro Atlanta school groups of 10 – 40 students. Email laura.haynes@ece.gatech.edu to learn more about scheduling your group tours or special visits.