Image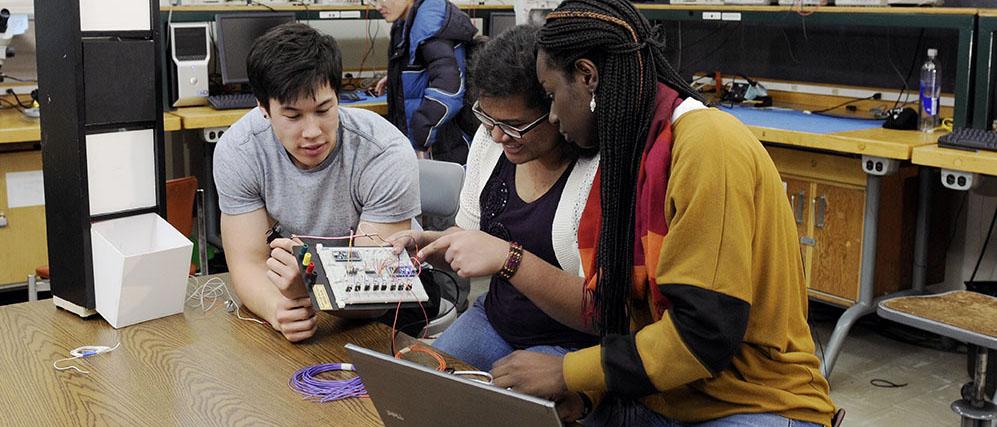 What is ECE?
The School of Electrical and Computer Engineering (ECE) at Georgia Tech is the largest of its kind in the country and known as a leader in both academics and research.
Students studying electrical or computer engineering are well set up for the future because electrical and computer engineering are at the core of just about every technology. Harnessing the power of electricity to advance the modern world, electrical engineering involves the design of devices and systems, from nanoscale computer chips to multinational communications systems. Spanning across the fields of electrical engineering and computer science, computer engineering combines the advanced intelligence of computer systems with the fundamental aspects of electrical engineering to deliver intricate and expansive solutions.
Electrical engineers and computer engineers are problem-solvers who want to make things work more efficiently and quickly and less expensively. From computer chips and satellites to medical devices and renewable energy technologies, engineering makes our modern life possible. In particular, electrical engineers and computer engineers have a wide range of study options and career paths that let them design, build, and manage those ideas into reality.
Ten key industry sectors employ electrical engineers and computer engineers:
Aerospace
Bioengineering/Biomedical Engineering
Computers
Education and Research
Energy and Electrical Energy
Manufacturing
Semiconductors
Services and Other Professions
Telecommunications
Transportation and Automotive
The following are some frequently asked questions about our offerings.
ACADEMICS
WHAT SETS YOUR ECE DEPARTMENT APART FROM OTHER ECE PROGRAMS?
Customization and flexibility are key tenets of our programs. As a student pursuing a Bachelor of Science degree in either Electrical Engineering (EE) or Computer Engineering (CmpE), you can enhance your degree with a Cooperative Education, International Plan, or Research Option designation. Our curriculum offers 40 hours of free and technical electives in 11 different specializations. You may also pursue a combined B.S./M.S. five-year program. Plus, we want you to be able to "get your hands dirty" your very first year, which is why our courses feature hands-on activities on ECE topics starting in the freshman year. Learn about the ECE Undergraduate Program.
CAN I DO MULTI-DISCIPLINARY WORK WHILE PURSUING AN EE OR CMPE DEGREE?
Yes. Georgia Tech offers over 50 undergraduate minors in other disciplines that can be combined with a bachelor's degree in either EE or CmpE. Some popular choices include minors in biomedical engineering, music technology, and engineering and business. CmpE students can count computer science courses towards their ECE electives. In addition, there are many opportunities to work across multiple disciplines, such as biomedical engineering and mechanical engineering, on research and design projects. Learn about minors.
WHAT IS THE DIFFERENCE BETWEEN COMPUTER ENGINEERING, ELECTRICAL ENGINEERING, AND COMPUTER SCIENCE?
Electrical engineers harness electrical energy for building devices and systems, from nanoscale implanted devices to multinational power and communication systems, including designing electrical components, software, and mathematical algorithms to make the systems work. Computer engineers design hardware and software that are used in standalone computers and in embedded computer systems, where the computer's role is to connect and control other devices. Like electrical engineers, computer engineers have a fundamental training in engineering complete with problem-solving skills and an understanding of physical phenomena, but computer engineers specialize in the design of computing devices. Computer engineering spans across the disciplines of electrical engineering and computer science. Computer scientists often focus on software systems like computer engineers do, but computer engineering has a larger emphasis on the interaction between a computer and the devices attached to it, and on the speed and energy efficiency of the overall system.
ACTIVITIES
ARE THERE ANY ADDITIONAL HANDS-ON OPPORTUNITIES AVAILABLE FOR STUDENTS?
Yes. ECE students can participate in undergraduate research and student competitions, join ECE student organizations, gain work experience at sought-after companies, learn how to start their own company, and study abroad.
WHAT ARE THE STUDY ABROAD OPTIONS?
Our students have the opportunity to study abroad in over 80 different places, or work abroad to gain international experience. Some programs, such as the Georgia Tech Lorraine program in France, even offer core ECE courses taught in English by Georgia Tech faculty. Visit the Office of International Education website to learn more.
WHAT DO STUDENTS DO FOR FUN AROUND HERE?
What are you into? We've got it all. First, metro Atlanta offers a plethora of things to do, from a robust culinary scene to cultural experiences at its many museums, concert venues, and sporting events. Additionally, there are 300-plus student organizations, including IEEE, Women in ECE, Energy Club, RoboJackets, and Solar Jackets. Explore student organizations.
CAREERS
WHAT ARE THE PROSPECTS FOR ECE STUDENTS?
ECE graduates are well prepared for high-tech corporate environments as well as graduate studies in engineering and professional programs in business, law, or medicine. And if you would like to explore a paid work experience, such as a co-op or an internship, before graduating, a dedicated career office offers support to current students (and also to alumni). Plus, Georgia Tech offers several career fairs each year with hundreds of companies participating and providing positions for both before and after graduation. Visit the Center for Career Discovery and Development.
WHAT ARE THE AVERAGE STARTING SALARIES FOR EE AND CMPE STUDENTS WITH A B.S. DEGREE?
Starting salaries are around $65,000/year. Eighty-five to 90 percent of students report having received a job offer by graduation, and the majority of the other 10 to 15 percent pursue other options, such as advanced degrees.
WHAT DOES THE FUTURE HOLD FOR EES AND CMPES?
EEs and CmpEs will continue to play a prominent role in the technological trends of the future, such as the Internet of things, robotics, medical labs on a chip, self-driving cars, and more. Check out what's happening in ECE research.
WHAT ARE SOME OF THE TECHNOLOGIES DEVELOPED BY EES AND CMPES?
EEs and CmpEs design and develop technologies that impact everyday life, such as laptops, tablets, Wi-Fi, smart phones, cameras, TVs, video games, toys, medical diagnostic equipment, robots, Internet communications, airplane electronics, environmental controls, alternative energy, hybrid cars, and much more!
What is the benefit of receiving an Electrical & Computer Engineering degree from Georgia Tech?
Our graduates are among the most highly sought after by industry and by top graduate schools, medical schools, and law schools. A degree from Georgia Tech's School of Electrical and Computer Engineering is a mark of distinction that is recognized and respected everywhere.
According to the Bureau of Labor Statistics, the demand for science and engineering workers will increase three times faster than any other job category this decade, and the majority of these new jobs will be in ECE!
Blank Space (medium)
(text and background only visible when logged in)