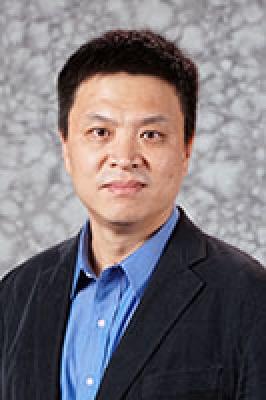 Official Job Title
Professor
Endowed Chair and Professorships Titles
Technical Interest Group(s)
Biography
Dr. Fumin Zhang joined Georgia Tech's School of Electrical and Computer Engineering in 2007 as an assistant professor. He received a Ph.D. degree in 2004 from the University of Maryland (College Park) in Electrical Engineering, and held a postdoctoral position in Princeton University from 2004 to 2007. His B.S. and M.S. degrees, both in electrical engineering, are from Tsinghua University in Beijing.
His research topics address challenging problems in marine autonomy, aerial robotics, mobile sensor networks, and foundations of cyber-physical systems. He aspires to develop long term autonomy solutions for swarms of marine robots, aerial vehicles, and satellites to form mobile sensor networks to collect information from land and ocean. He is especially interested in sustainability related topics such as coastal environment protection, extreme weather forecast, smart aquaculture, search and rescue, and security of seaports.
Zhang is also a distinguished scholar, holding leadership positions in the IEEE control systems society, the IEEE robotics and automation society, and the IEEE ocean engineering society. In May 2020, he was appointed the director of the Decision and Control Laboratory (DCL). The DCL is an interdepartmental laboratory at Georgia Tech whose mission facilitates and fosters collaboration and scholarly exchange among Georgia Tech faculty members who are interested in the field of decision and control systems. Research of DCL faculty involves analytical, computational, and experimental activities that span a variety of engineering technologies, including areas such as air traffic control, molecular processes, mobile robotics, and medical imaging. 
Research
Mobile Sensor Networks
• Underwater and Marine Robotics
Motion Planning in Complex Environments
Battery Supported Cyber-Physical Systems
Geometric and Nonlinear Systems and Control
Distinctions & Awards
NSF CAREER Award, 2009
ONR YIP Award, 2010
GT Lockheed Inspirational Young Faculty Award, 2010
GT ECE Roger P. Webb Outstanding Junior Faculty Award, 2011
Zhejiang University Distinguished Lecturer on Cyber-Systems and Control, 2011
Hesburgh Award Teaching Fellow, 2017

Roger P. Webb ECE Outreach Award, 2017