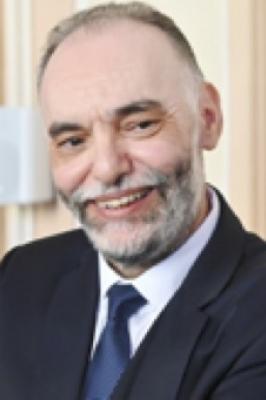 Official Job Title
Professor
Job Title(s)
President of Georgia Tech-Lorraine, Co-President of Institut Lafayette,
Technical Interest Group(s)
Biography
Abdallah Ougazzaden is a professor at the Georgia Institute of Technology (GIT)/School of Electrical and Computer Engineering; president of https://lorraine.gatech.edu">Georgia Tech-Lorraine, the European Campus of GIT in France; co-founder and co-president of https://www.institutlafayette.eu">Institut Lafayette (Lafayette Institute), a platform of innovation and technology transfer. He was a leader in creating the Joint International Research Lab between GIT and the Centre National de la Recherche Scientifique (CNRS) and then served as its director for three terms. 
Dr. Ougazzaden worked in R&D as a senior researcher and group leader at CNET/France Telecom (France) for more than eight years and one year at Optoplus/Alcatel (France) as optoelectronic materials group manager. In 1999, he joined Bell-Labs at Lucent Technologies (USA) as epitaxy and materials characterization manager for Optical Fiber Communication.  He kept this position with Agere Systems (USA), and then he worked as R&D and Fab Manager at TriQuint Semiconductor (USA). 
Dr. Ougazzaden joined Georgia Institute of Technology in 2005. His current research activity is in the field of wide bandgap semiconductors, 2D materials, and related devices for optoelectronic applications. He has authored more than 450 international scientific papers and communications and holds 26 patents. He contributed to the development of the first laser semiconductor at 1.3-micron for fiber telecommunication in France and its transfer to Alcatel.
A full list of Dr. Ougazzaden's publications may be found at https://scholar.google.fr/citations?user=fTnKhOYAAAAJ&hl=fr">here.
Research
Epitaxial growth of Nitride-based semiconductor materials by MOVPE
Epitaxial growth of InP based materials by MOVPE
Optoelectronic devices micro/nano fabrication
Materials Characterizations
III-V Semiconductor device physics
Van der Waals epitaxy of two dimensional materials
Distinctions & Awards
2019 recipient of "La Légion d'Honneur," the highest decoration in France on behalf of the French President
Member of National Academy of Metz since 2017
2015 recipient of the first international Stellab Award from PSA Peugeot Citroen
Medale of City of Metz, France, 2014
2013 Steven A. Denning Faculty Award for Global Engagement, Georgia Tech
CNET/France Telecom Award, 1990
Member of Organization Committee of European Workshop, MOVPE
Member of the International Advisory Committee, International Conference, MOVPE
Chair and organiser of the International Conference MOVPE 2008, Metz, France
Member of steering committee and expert on nanotechnology for the Parliamentary Office for Scientific and Technological Choices (OPECST)
Member Expert in French Research AgencyMember of steering committee and expert on nanotechnology for the Parliamentary Office for Scientific and Technological Choices (OPECST)
Member Expert in French Research Agency
Thursday, 20 April 2023 1:59 PM EDT