Image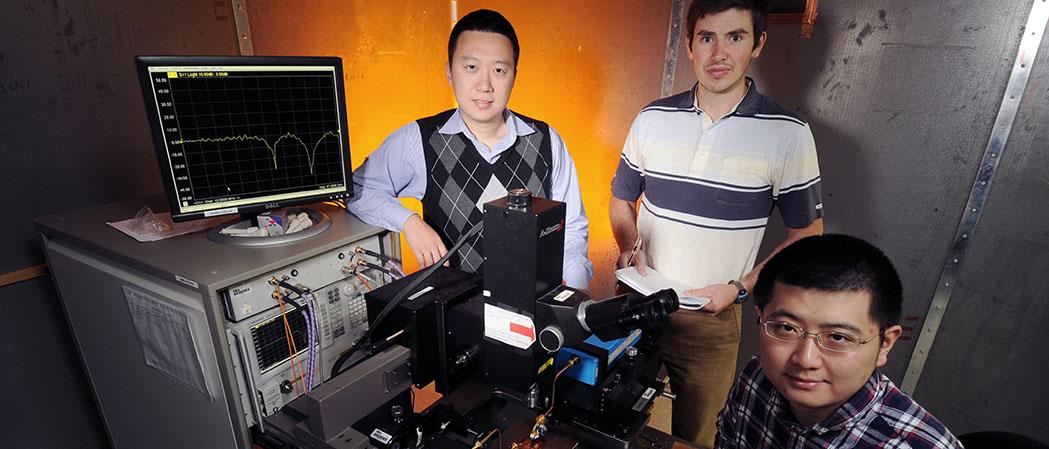 Ph.D. Degree Requirements
The following requirements include the course hours normally accumulated during the student's master's degree. 
| Requirement | Hours | Description |
| --- | --- | --- |
| Group I: ECE 6000 level classes in one or two TIAs: | 9 | Three classes in a combination of one or two technical interest areas of the student's choosing (All for letter grade credit). |
| Group II: ECE 6000-level classes | 9 | Nine hours of classes, all of which must be outside of and not cross-listed with the TIA(s) above. All for letter grade credit. |
| Group III: Minor in an area outside ECE | 9 | Nine hours of classes in a single discipline outside of ECE. All for letter grade credit. |
| Group IV: Electives | 14 | (Up to 12 M.S. thesis hours, recorded as such on an official transcript, may be used in this area) |
| ECE 8022 Professional Communications Seminar | 1 | Pass/fail. Permit required. Pass the Coursework Qualifier to receive a permit. |
| PHIL6000 Responsible Conduct of Research | 1 | Pass/fail. Students entering the Ph.D. program in Fall 2011 or later and M.S. students who were admitted for Fall 2011 or later and then transition to Ph.D. must take an RCR course to fulfill this requirement. |
| Total hours required | 43 |   |
In addition, there are a number of requirements imposed by the Institute. These include:
Student must pass a Comprehensive Examination. In ECE, this is the combination of the Ph.D. Coursework Qualifier and the dissertation proposal.
Student must have at least two semesters of full-time, on-campus enrollment.
A minimum of 9 hours for letter grade must be taken at Georgia Tech.
The training in the Responsible Conduct of Research consists of two parts: an online training (to be completed in the first 90 days of the program) and a class (PHIL 6000).
The student must complete and defend a dissertation, for which prior approval of the topic is necessary.
Once admitted to candidacy, the student must complete all degree requirements within 7 years. 
Student must maintain a 3.0 GPA. 
Minor Field of Study: The minor is most often in mathematics or in computer science; a list of Math courses and a list of Computer Science courses acceptable for a Ph.D. minor can be found on the "Minors" tab in the Courses and Coursework Planning section. Minor courses in another area will be considered; however, minor courses in non-technical areas (for example, management) will not be approved.
Details of the degree requirements are in the ECE Graduate Student Handbook. To assist with planning when to take courses, visit the projected schedule of graduate classes page on the ECE website and search for details about ECE classes on the ECE Course Information page.
COURSEWORK PLANNING
COURSEWORK QUALIFIER
ADVISOR SELECTION
PROPOSAL EXAMINATION
DISSERTATION AND FINAL DEFENSE
GRADUATION PROCEDURES
CHANGING MAJOR FROM M.S.E.C.E. TO PH.D.
Bioengineering
The School of Electrical and Computer Engineering participates in the Interdisciplinary Bioengineering Graduate Program, which is housed in the College of Engineering. The program offers advanced courses in bioengineering, engineering specialties, and life sciences combined with research and development of new or improved physical and mathematical concepts and techniques, which may be applied to problems in medicine and biology.
The bioengineering program offers master's and doctoral degrees through participating schools in the College of Engineering and the College of Computing. Interested applicants with an electrical and/or computer engineering background apply for admission in the bioengineering program through ECE. Once admitted, students follow the bioengineering program degree requirements and curriculum.
Additional information on the bioengineering program, including how to apply and a comparison between the bioengineering program and traditional engineering programs, can be found on the Georgia Tech Bioengineering Interdisciplinary Program website.
Robotics
This interdisciplinary Ph.D. program offers coursework covering mechanics, controls, perception, artificial intelligence, and autonomy. The program also features a strong multidisciplinary research component. Learn more about the Ph.D. Program in Robotics.
Machine Learning
The School of Electrical and Computer Engineering participates in the interdisciplinary Machine Learning Ph.D. Program. The Machine Learning (ML) Ph.D. program is a collaborative venture between Georgia Tech's colleges of Computing, Engineering, and Sciences.
The program seeks to create students who are able to integrate and apply principles from computing, statistics, optimization, and engineering in order to create machine learning models, and apply them to solve important, real-world, data-intensive problems.
Additional information on the Machine Learning Ph.D. Program including how to apply, can be found on the Machine Learning Ph.D. website.
Changed
Monday, 21 August 2023 10:11 AM EDT