Image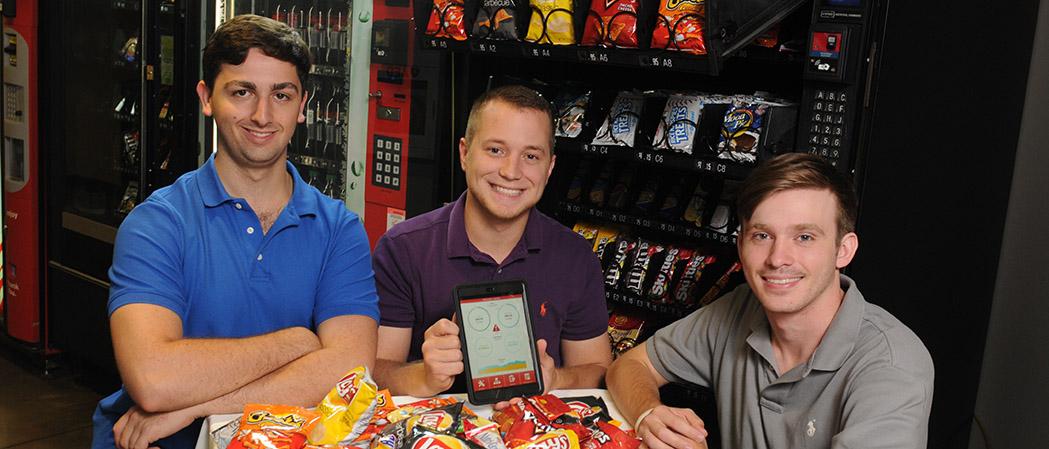 No one ever built a business on "business as usual." Change is the only constant and success means finding and working with the people that engineer change. On any given day, Georgia Tech ECE makes things better, smaller, faster, and more efficient.
We couldn't do it without the talented minds of our students and faculty—or the generosity of our alumni.
Thanks for helping us lead, orchestrate, and bring all kinds of amazing things to life.
Your support can be directed to ECE faculty, students, and facilities through the following alumni giving programs:
Students
We rely on support from our alumni to help provide our students with an exceptional learning environment that is rigorous in fundamental electrical and computer engineering skills and challenging with hands-on design experience.
CREATE-X: Endowing support for this new, interdisciplinary initiative is our top priority, and we seek $25 million in order to do so. This set of courses and experiments will empower students with the skills to "create their own job," whether working in corporate America or starting their own company. Named programmatic endowments are available starting at $25,000. Learn more about CREATE-X.
Undergraduate scholarships and graduate fellowships: These help attract the most promising and diverse undergraduate and graduate students to Georgia Tech ECE. Your support of scholarships and fellowships will allow Georgia Tech ECE the competitive advantage needed to secure their admission. Named endowed scholarships and fellowships are available starting at $25,000. 

Student Emergency Funding: The Division of Student Life, the Alumni Association, and the Office of Development are partnering to collect and distribute emergency funding to support students in need. This fund has been established to support Tech students who have a demonstrated financial need related to the COVID-19 crisis and campus closures. Learn how to contribute to the Student Relief Fund.
Faculty
World-class faculty is the key ingredient to Georgia Tech ECE's exceptional ratings and reputation.
Endowing chairs, professorships, and faculty awards: This private support is critical for our ability to attract and retain Georgia Tech ECE's top teachers and researchers. Endowed chairs are available starting at $2 million; endowed professorships are available starting at $1 million; endowed early career/junior professorships are available starting at $500,000; and faculty awards are available starting at $25,000.
Facilities
New and renovated facilities are no longer possible without support from private donors. Our top priority is the renovation of Georgia Tech ECE's headquarters, the 52-year-old Van Leer Building, located at 777 Atlantic Drive N.W. and central within the Georgia Tech campus. We envision this renovated facility will serve as a central location for students to gather and much of the renovated space will be designated as a student-operated, open design center. Named opportunities are available beginning at $25,000.
Make A Gift To ECE
Listed below are several methods of making a gift to ECE. Please remember that many companies will match gifts to educational institutions, considerably increasing the size of your gift.
Outright Gifts
Make a cash gift to ECE
To make a cash gift designated to ECE, simply make your check payable to the "Georgia Tech Foundation Inc." and mail it to the following address:
Development Office, Suite E292
School of Electrical and Computer Engineering
Georgia Institute of Technology
Atlanta, Georgia 30332-0250
Please be sure to include a note stating that you'd like your gift to be directed to support ECE.
Make a gift by credit card
Please contact Caitlin Buro, in the Office of Development, at 404-385-0775 to make a gift by credit card. Accepted cards include Master Card, Visa, American Express, Discover and Diners Club.
Make a gift by wire transfer
For gifts by wire transfer, please contact Pat Barton, Director of Gift Account, at 404.894.5544 to inform Georgia Tech of your coming gift to ensure your transfer is credited properly.
Make a gift of stock electronically to Georgia Tech
An electronic transfer of stock to the Georgia Tech Foundation can be made by contacting Linda Lilly at 404-894-6130 at the Georgia Tech Foundation regarding the planned transfer.
Matching Gifts
Many companies match the gifts of their current or retired employees. Your company's human resources department can provide details on its policies and can provide a matching gift form to include with your gift.
Can I receive a tax deduction for my gift? 
Different deductions are associated with different gifts. Factors influencing tax deductions include the assets you are giving Georgia Tech and when a specific asset is given. In general, for outright gifts to Tech, you will receive an income-tax charitable deduction.
Deferred Gifts and Estate Planning
Bequests and other planned gifts are some of the greatest sources of funding for Georgia Tech. These gifts stabilize Tech's financial foundation, securing the future of Tech while perpetuating a legacy of giving.
Estate Gifts
Will or Living Trust Provisions enable you to direct the distribution of your assets at your death.
Retirement-Plan Assets are a tax-wise and easy way to make a gift for Georgia Tech's future.
Life Insurance also can provide security for Tech's future.
Life-Income Gifts
Charitable Gift Annuity is a great way to support Georgia Tech's future while supplementing your and/or your spouse's retirement income with the assurance of fixed quarterly payments.
Charitable Remainder Trust is a popular way of making a significant gift to Georgia Tech while providing income to the donor and/or other beneficiaries through fixed or variable payments.
Other Gift Plans
Charitable Lead Trusts allows you to provide a stream of gifts to Tech for a number of years, and then transfer assets to heirs at a reduced tax level.
Retained Life Estate means giving your home to Georgia Tech and receiving a charitable deduction now with you and your spouse living there for your lifetimes.
Wednesday, 22 March 2023 4:30 PM EDT