Image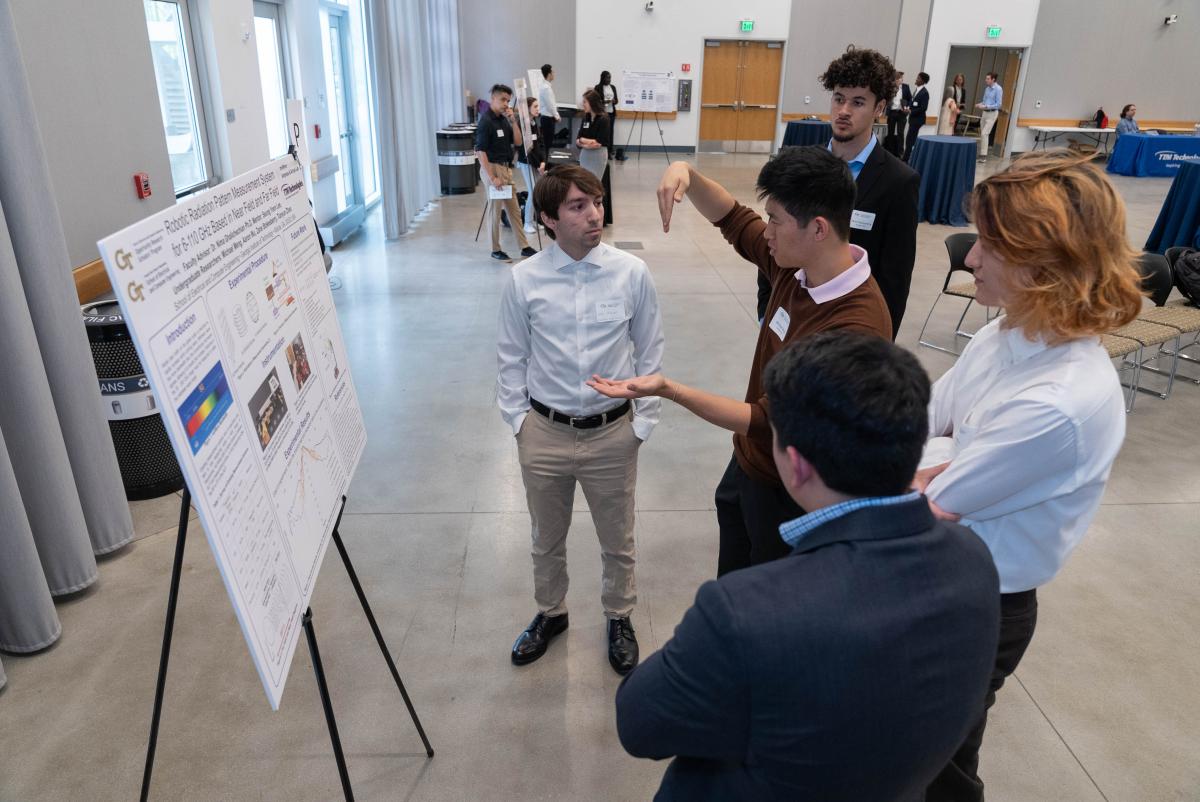 Opportunity Research Scholar (ORS) student discussing their research at the 2023 ORS Symposium on April 26.
On April 26, 2023, the Opportunity Research Scholar's (ORS) Symposium was held in Exhibition Hall, celebrating the exceptional research conducted by undergraduate students in the Georgia Tech School of Electrical and Computer Engineering (ECE) throughout the academic year. 
View photos from the ORS Symposium 
ORS is a program that offers undergraduate students an extended research experience, enhancing their academic journey and fostering their interest in the field. Participants commit to a research team for a minimum of two semesters and receive course credit or payment for their contributions. At the culmination of the spring semester, teams compete in a research poster contest, with the winners being acknowledged at the annual ORS Symposium. 
"Every year, the ORS Symposium serves as a testament to the dedication, passion, and hard work of our student researchers and this year's event was no exception," said Shanthi Rajaraman, ORS director, "It's inspiring to witness the growth and development of these young minds and see how their research can positively impact the world around us." 
Similar to the last year's symposium, poster submissions were opened to teams beyond ECE. Additionally, student researchers had the opportunity to engage in peer review thanks to the IEEE Council on RFID (radio frequency identification). The event featured the research projects of 19 undergraduate teams, including five teams from Kennesaw State University. 
Since its establishment, ORS has involved nearly 1,000 students, making a profound impact on their educational journeys. Notably, the program has demonstrated a higher participation rate of female students, with 50% more female participants compared to the school's average. Furthermore, twice as many ORS Ph.D. graduates choose to pursue academic careers when compared to the general ECE Ph.D. population over the last decade. 
Image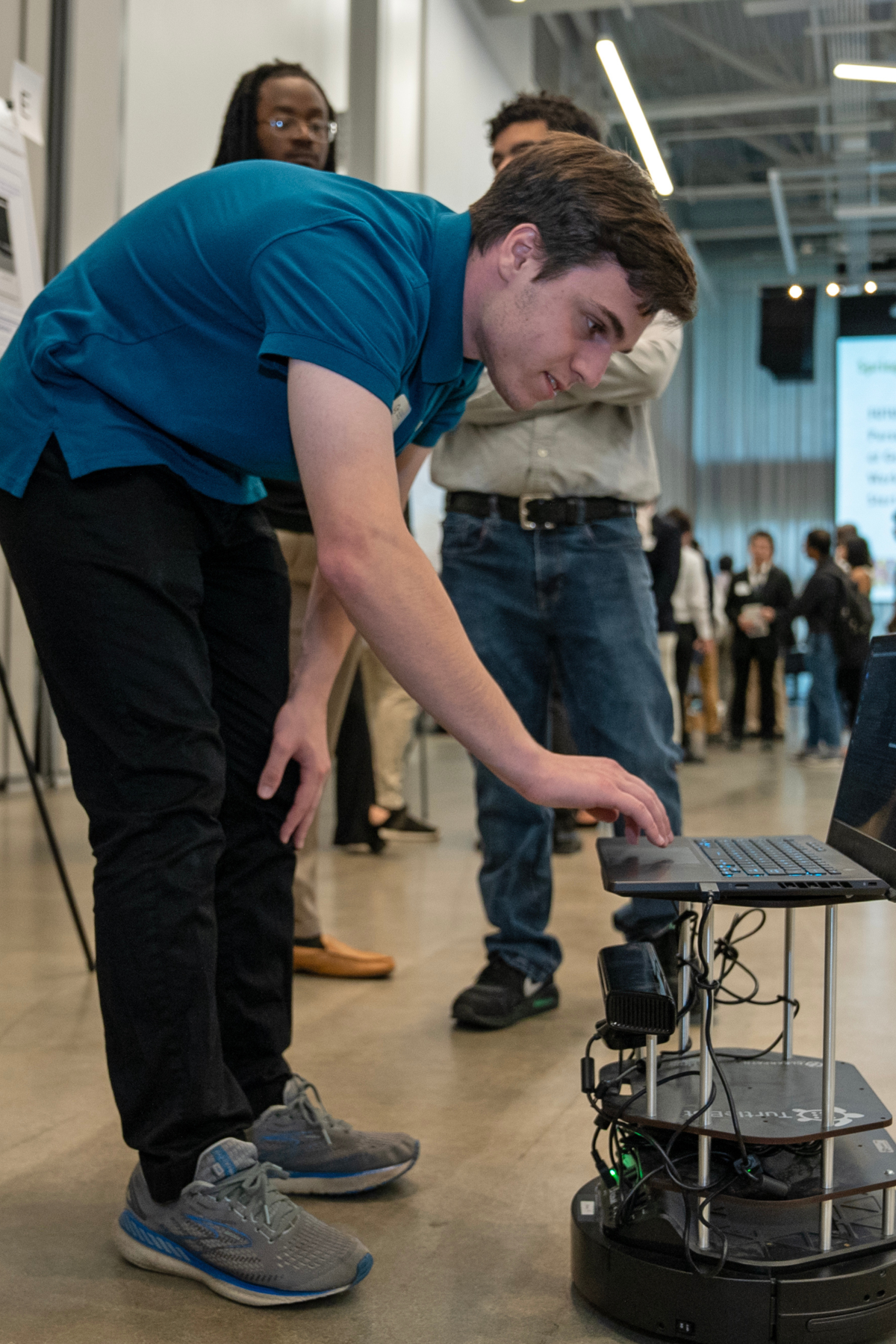 A student at the 2023 Opportunity Research Scholar's (ORS) Symposium demoing his group's autonomous navigation research project. 
Image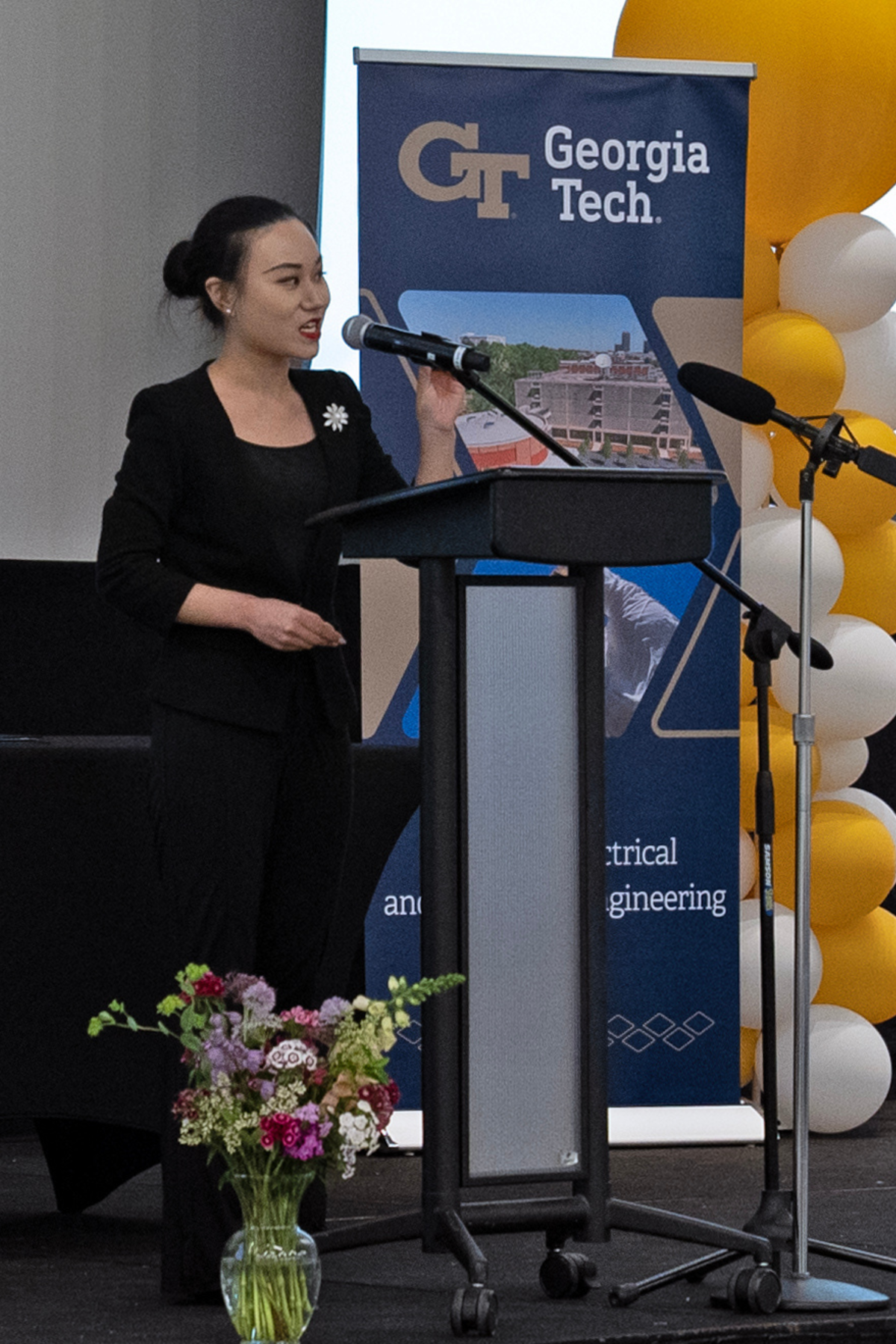 Student Lydia Wuqiong Han addressing the ORS Symposium crowd.  
The 2023 Opportunity Research Scholar's (ORS) Symposium Award Winners Are:  
Image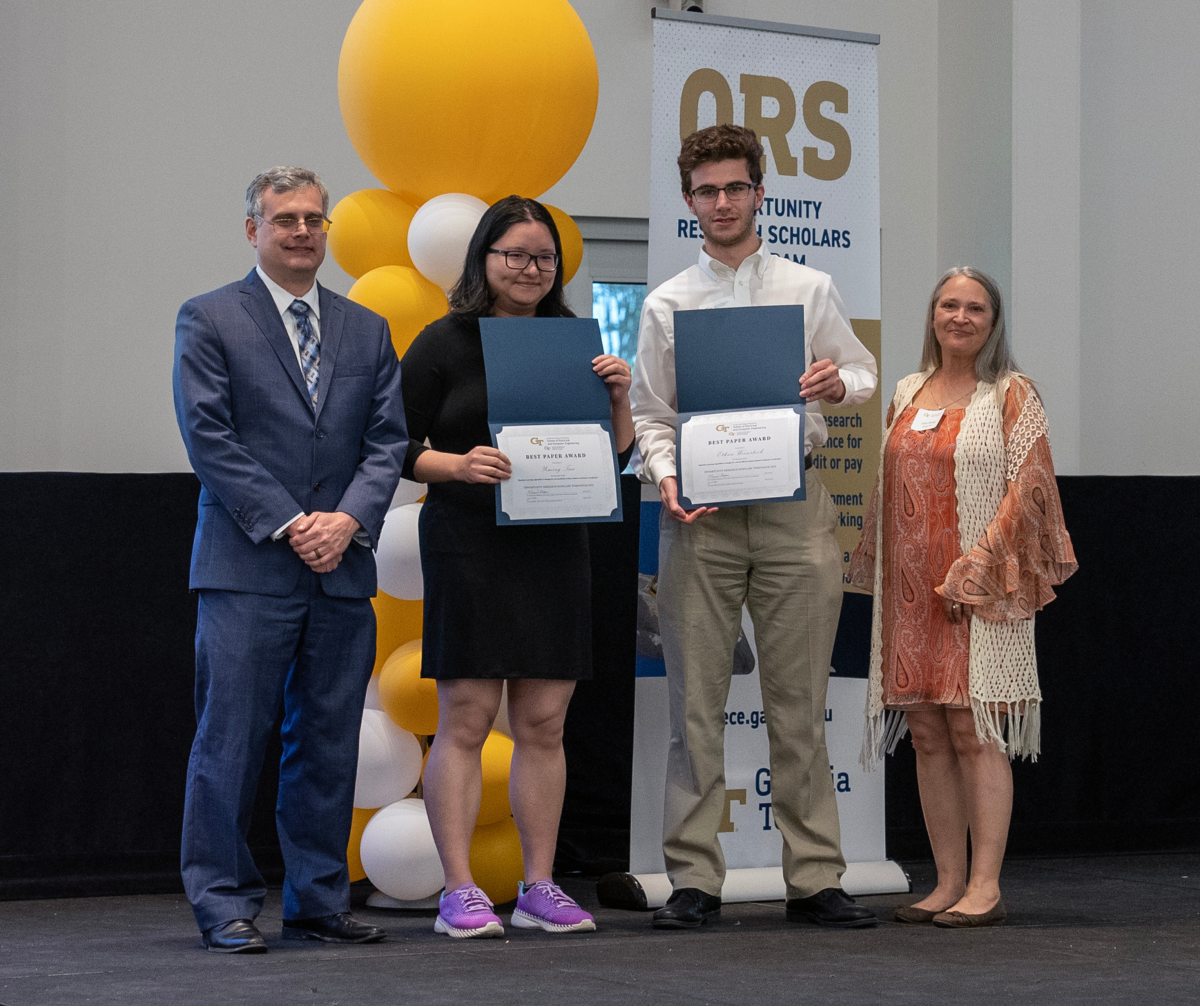 Yiming Tan (second from left) and Ethan Weinstock (third from left) of the first-place research team with ECE Professor Gregory Durgin (ORS faculty executive director) and Julie Ridings (ORS assistant director). Not pictured is undergrad student Wanton Li. 
1st Place
Title: Machine Learning Algorithm Co-Design for a 40 nm RRAM Analog Compute-in-Memory Accelerator 
Student Researchers: Wanton Li, Yiming Tan, and Ethan Weinstock 
Faculty Advisor: Shimeng Yu 
Image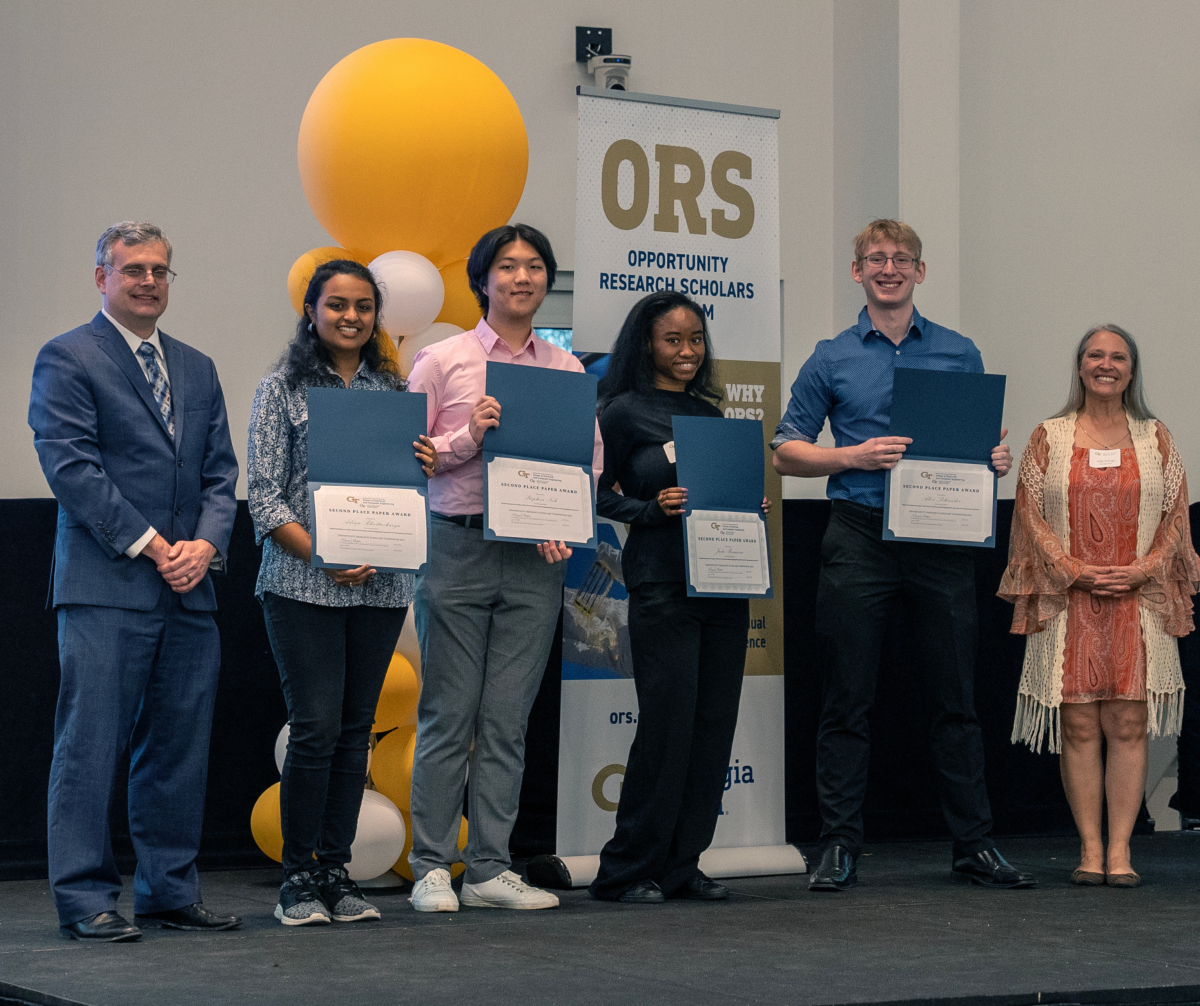 The second-place research team (L-R): Professor Gregory Durgin (ORS faculty executive director), Adrija Bhattacharya, Stephen Noh, Jada Brunson, Alex Schroeder, and Julie Ridings (ORS assistant director)
2nd Place 
Title: Model Simulation of a Space Solar Power System Using Disaggregated Apertures of Transmission (DAGATs) 
Student Researchers: Adrija Bhattacharya, Jada Brunson, Stephen Noh, Paul Park, Alex Schroeder 
Faculty Advisor: Gregory Durgin
Image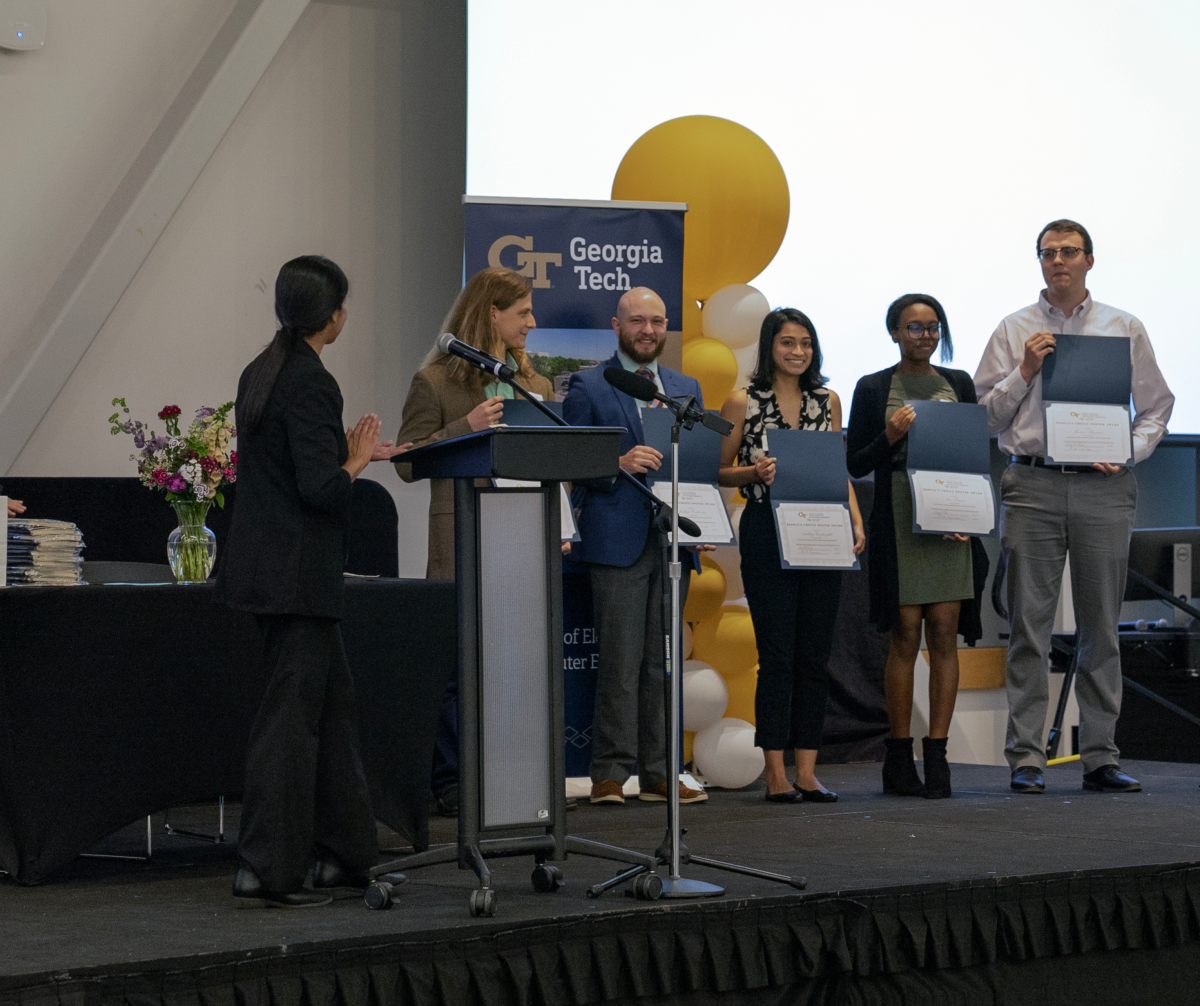 The People's Choice team (L-R): Quinn Parker, Joshua Contreras, Ashley Goodnight, Nia Simon, and Jonas Theumer.
People's Choice
Title: A Non-Destructive Method to Estimate Leaf Water Content Using the Ka-Band   
Student Researchers: Joshua Contreras, Ashley Goodnight, Quinn Parker, Nia Simon, Jonas Theumer 
Faculty Advisor: Alenka Zajic