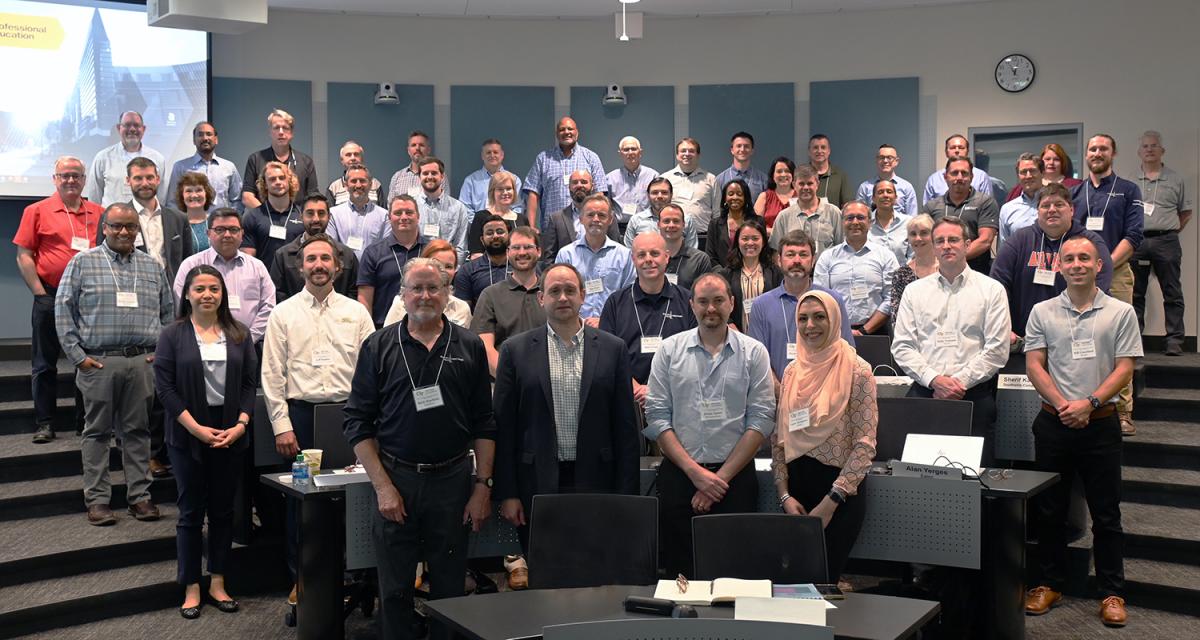 The NEETRAC advisory board meeting on May 17, at Georgia Tech. New NEETRAC Director Joe Hagerman (front row, second to left) was introduced to the board during the meetings.
Blank Space (small)
(text and background only visible when logged in)
Image

As the nation's power grid undergoes a transformative shift with historic investment in clean energy, Joe Hagerman understands the importance of this moment for the National Electric Energy Testing, Research and Applications Center (NEETRAC). It presents the center with a distinct opportunity to showcase expertise, drive progress, and actively shape the future of the grid.
NEETRAC, a leading research and testing resource for the electric energy industry, housed under the Georgia Tech School of Electrical and Computer Engineering (ECE), has announced the appointment of Hagerman as its director, starting June 1.
"Under the leadership of former Director Rick Hartlein, NEETRAC has established itself as a trusted authority in testing and research for the electric power industry," said Hagerman. "Thanks to this reputation, we are now poised to take a leading role in the country's de-carbonization and re-electrification priorities. The potential for strengthening our ties with the Institute, the state of Georgia, and federal entities is a once in a lifetime opportunity."
Hagerman joins NEETRAC after directing the Energy, Policy, and Innovation Center (EPICenter), a division of the Strategic Energy Institute. 
Image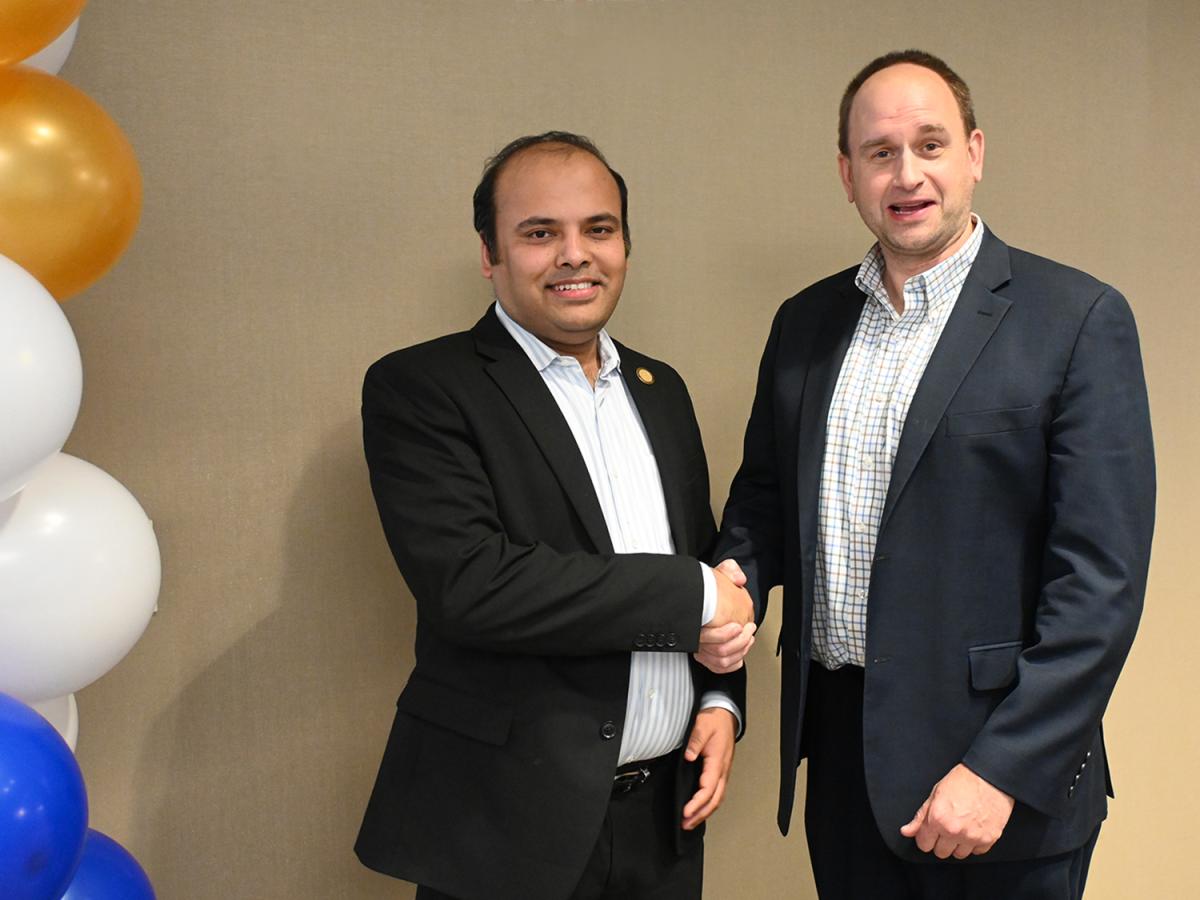 ECE School Chair Arijit Raychowdury and Joe Hagerman, the new director of NEETRAC.
The Right Time for Growth 
The domestic demand for electricity continues to steadily rise because of the government's ambitious renewable and carbon-free energy objectives, the increased electrification of transportation and heating, and the growing demand for digitally connected devices.
Add this to an aging power grid, and incentives and investments for making the grid stronger and more resilient are at an all-time high for the electric power industry.
Hagerman looks to leverage his governmental research reputation and knowledge of the Georgia Tech landscape to enhance NEETRAC's existing strengths and explore new opportunities. He seeks to establish new connections — both inside and outside of the Institute — for the center, enabling it to effectively drive innovation and address the evolving needs of the industry.
"The power grid stands as a remarkable feat of human engineering, and its sheer physical scale is incredible," said Hagerman. "Incorporating changes is not as simple as flipping a switch. It requires extensive knowledge and countless hours of rigorous testing. Thankfully, NEETRAC and Georgia Tech possess an abundance of expertise — and a world class staff — that can be harnessed to navigate these challenges successfully." 
Blank Space (medium)
(text and background only visible when logged in)
"NEETRAC is much more than a testing laboratory to us. The deep knowledge and expertise that NEETRAC uses to support our industry's needs is unparalleled."
- Sherif Kamel of Southwire, a NEETRAC member company.
Blank Space (small)
(text and background only visible when logged in)
Blank Space (small)
(text and background only visible when logged in)
An Invaluable Industry Resource 
For more than 25 years, NEETRAC — located just south of the Atlanta campus, near the Hartsfield-Jackson Atlanta International Airport — has played a vital role in facilitating collaboration between the electric energy industry and academia.
Everything connected to the power grid — even power poles to bucket trucks — can be tested and researched at the center. NEETRAC's experienced engineers and technicians seek to deliver innovative, effective solutions to all problems related to the transmission and distribution of electric energy. 
Image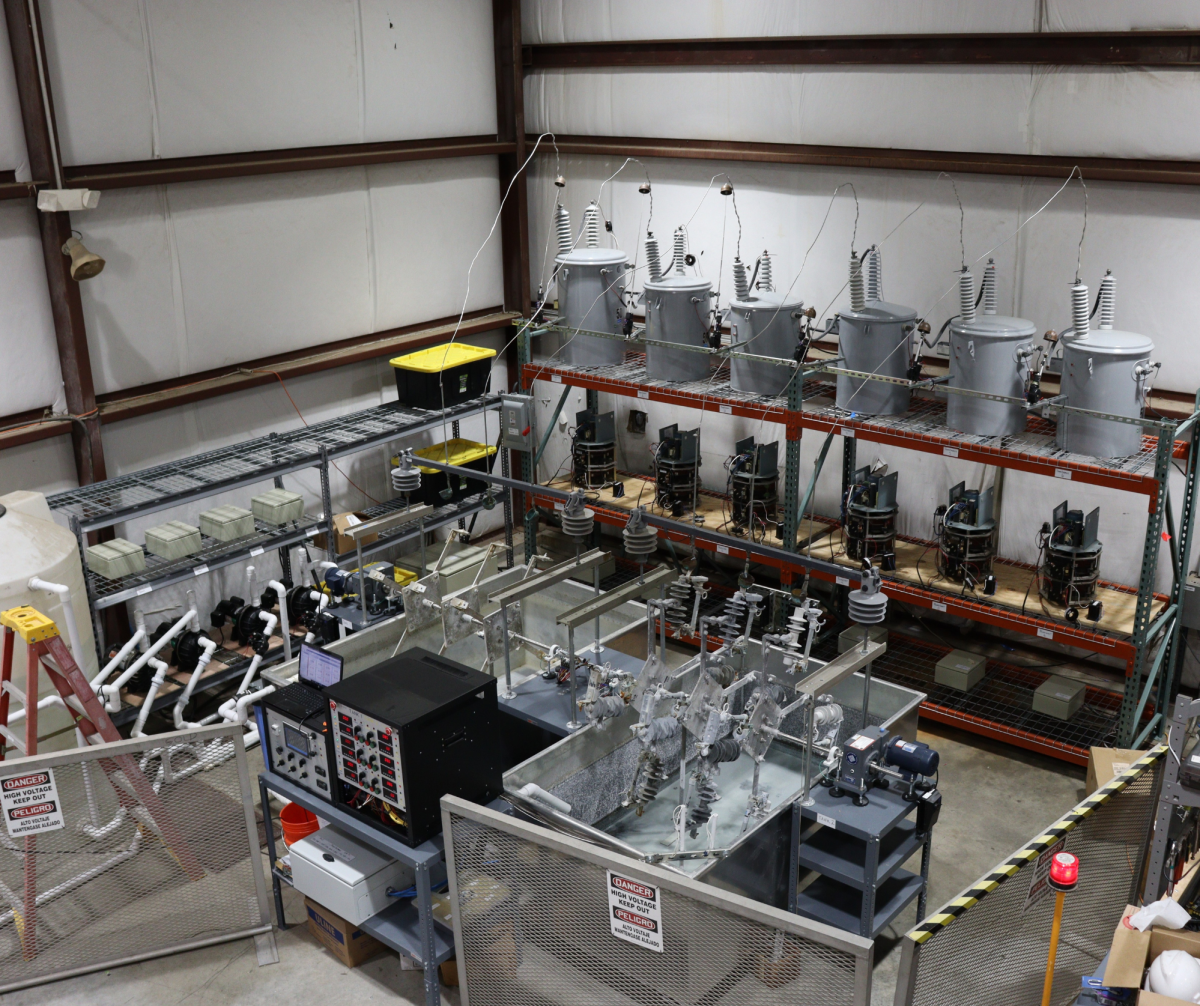 A custom tracking wheel at NEETRAC designed to test electrical power line components.  
Image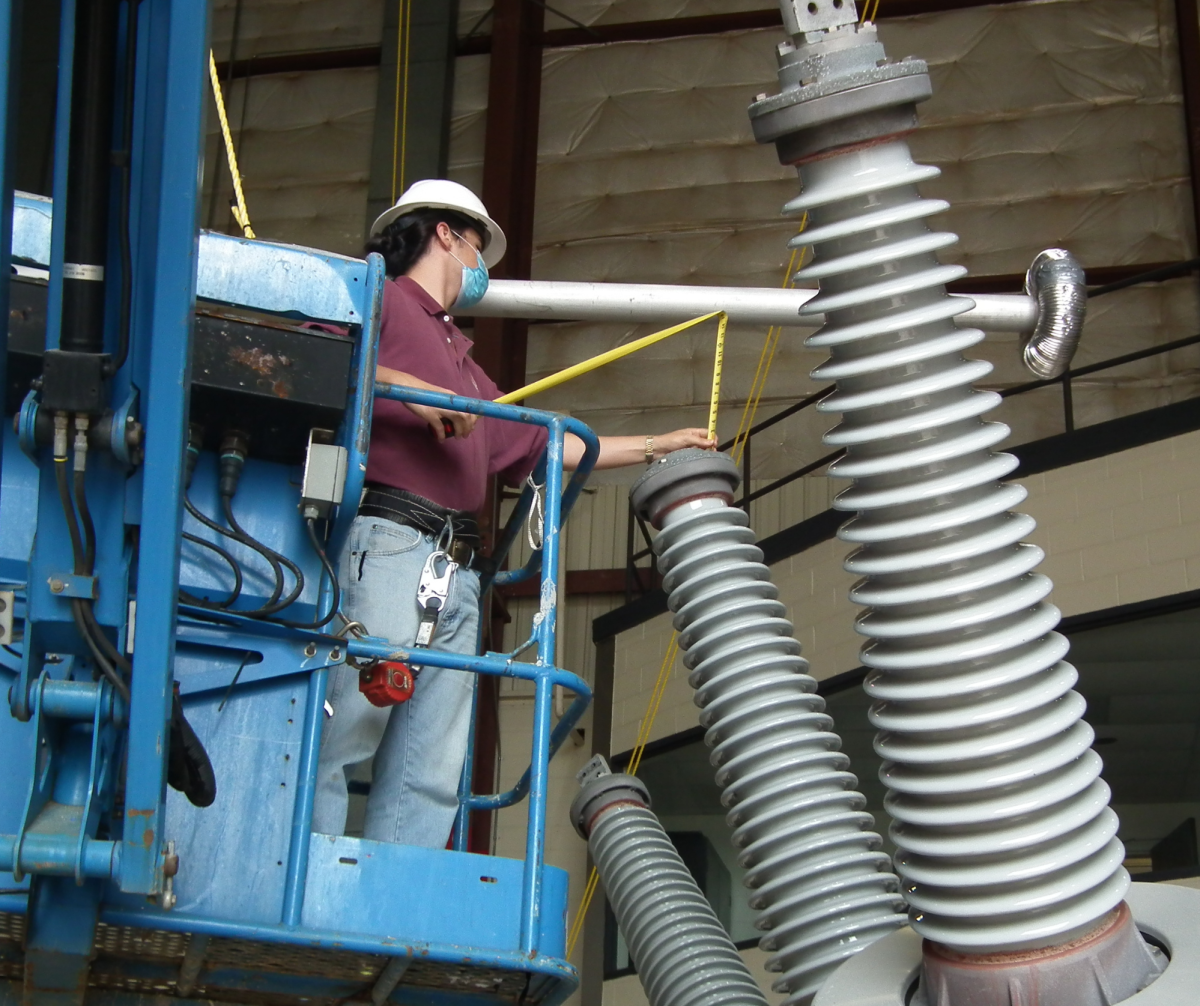 A NEETRAC technician evaluating a high voltage circuit breaker.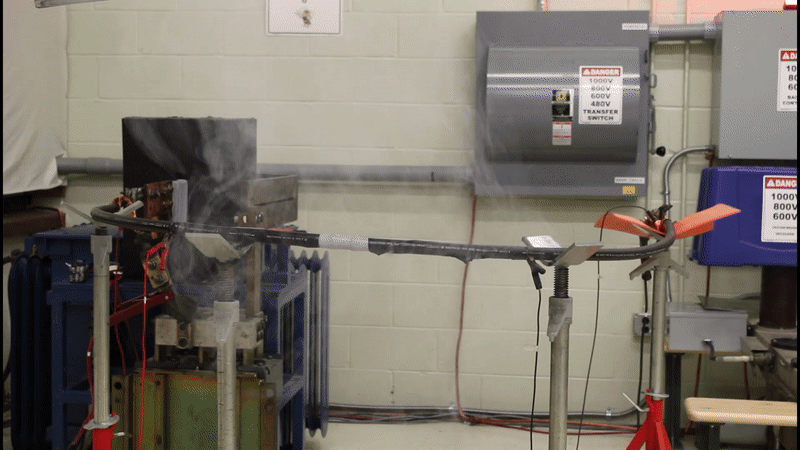 A slow-motion view of a power cable subjected to a manufactured fault current (an abnormal electric current) engineered to test its response. 
As a membership-supported center, NEETRAC's member companies comprise utilities that represent around 65% of U.S. electric customers, along with manufacturers who contribute significantly to the products and services offered in the electric utility industry. 
"NEETRAC is much more than a testing laboratory to us," said Sherif Kamel, vice president of New Product Development at Southwire, a NEETRAC member organization. "The deep knowledge and expertise that NEETRAC uses to support our industry's needs is unparalleled."
This diverse membership base promotes collaboration and knowledge exchange, keeping NEETRAC at the forefront of industry challenges, advancements, and opportunities.
Sherif, NEETRAC's advisory board chair and a member of the search committee that recommended Hagerman, stated that NEETRAC's staff and facilities aid Southwire in developing, improving, and supporting customers. Additionally, the center enhances the credibility and proficiency of the company's test results. Southwire was founded in 1937 by Roy Richards, a graduate of Georgia Tech, and is a NEETRAC founding member. 
Blank Space (small)
(text and background only visible when logged in)
Image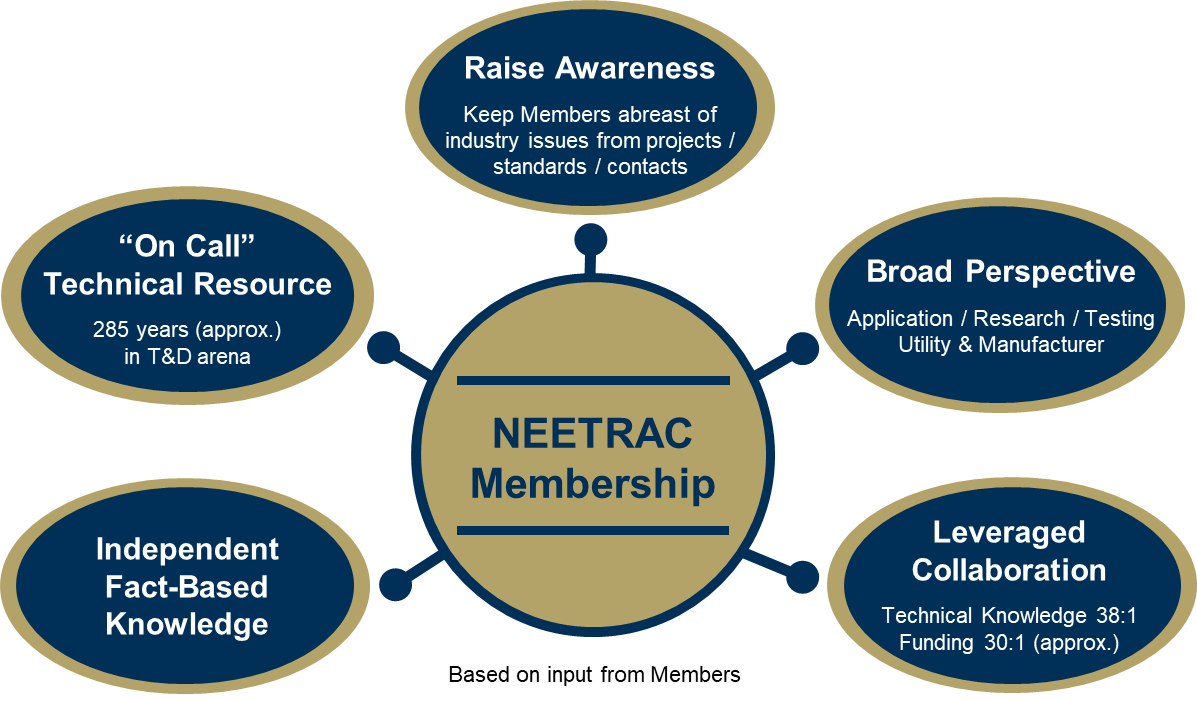 NEETRAC is supported by nearly 40 electric utilities and companies. Both collaborative and proprietary projects are performed for members

 to provide a wide array of analytical, engineering, research and testing services to help improve electric grid reliability and efficiency. NEETRAC members include:
Aluma Form




Ameren




American Electric Power




BC Hydro




Borealis Compounds




Consolidated Edison




Dominion Energy




Dow Chemical




DTE Energy
Duke Energy Company
Eaton
Exelon
FirstEnergy
Gresco Utility Supply
Hubbell Power Systems
LS Cable & Systems
Nova Scotia Power
NRECA
The Okonite Company




Pacific Gas & Electric




PPL Corporation




Prolec GE




Prysmian




Rauckman Utility Products




San Diego Gas & Electric




Slacan Industries




Smart Wires
Southern California Edison




Southern Company




Southern States




Southwire Company




Tacoma Power




TE Connectivity




TVA




Viakable




WEC Energy Group
Blank Space (small)
(text and background only visible when logged in)
Future Potential
Hagerman stressed that with so much uncertainty regarding the future of the domestic power grid, one thing is clear: To evolve NEETRAC will need to enhance its relationship with the industry and scale to help its current and future members throughout North America.
"There's excitement in not knowing how everything will unfold," he said. "It's important for us to be nimble and ready to adapt, but to also use our position to anticipate the needs of our members and provide value and insights to our partners."
According to Hagerman, the future services of NEETRAC could be driven by several important factors, namely the integration of renewable energy sources, ensuring the security of the grid both in physical and cyber aspects, and harnessing the power of big data.
Investing and expanding in the expertise of NEETRAC's skilled scientists and engineers, its technical staff, and its administrative staff is arguably the most crucial approach to meeting the uncertain demands of the future.
"By nurturing the talents and skills of the team and by incorporating an inclusive approach, we all work toward the shared future of NEETRAC and the Institute. We are all one Georgia Tech," said Hagerman. "NEETRAC's role in that future is defined by its cutting-edge evaluations, its world class research, and its continued support of innovation for a resilient and secure domestic power grid for all."
Image

NEETRAC Testing Services
Through a wide range of services, NEETRAC endeavors to enhance power system reliability, reduce costs, and improve overall system safety. Read about a few of the many services NEETRAC provides below. 
High Voltage Testing
NEETRAC provides both indoor and outdoor testing capabilities to meet various high voltage testing needs. Comprehensive test programs are available for evaluating insulators, arresters, corona in overhead line hardware, and cable systems. NEETRAC's capabilities also include a 2.2 MV indoor impulse generator.
Image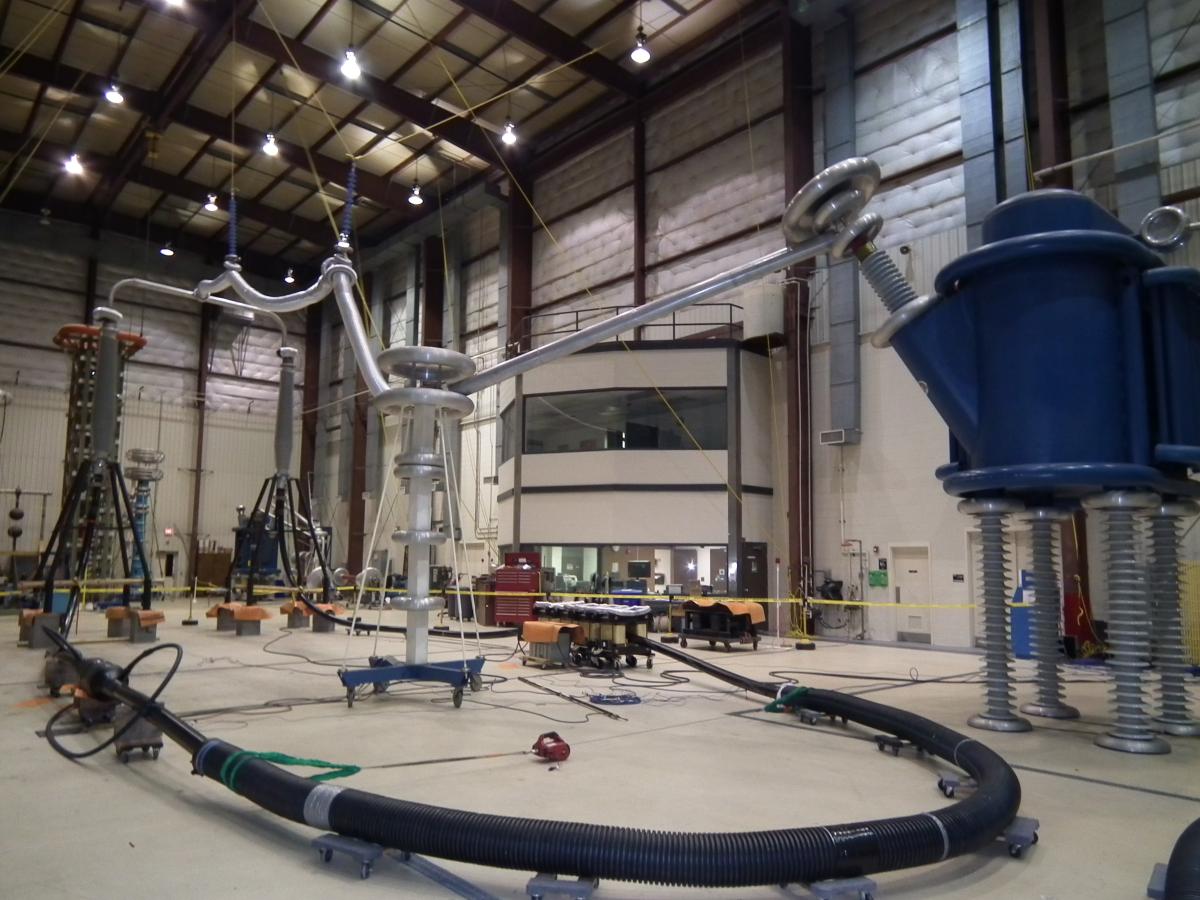 An Extra High Voltage (EHV) cable system type test being performed in NEETRAC's HV Lab.
Quality Assurance
NEETRAC excels in forensic quality assurance testing, operating a comprehensive cable quality assurance program. This program identifies nonconformities and unusual features, ensuring that utilities can collaborate with suppliers to rectify issues before installation on their systems.
Image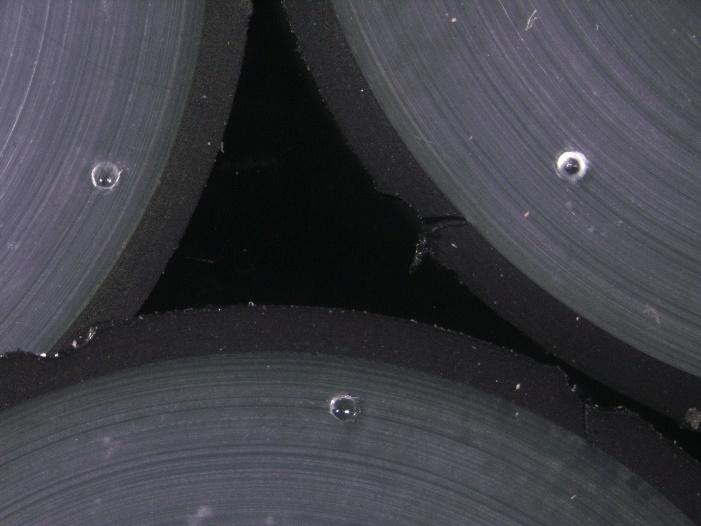 An insulation void in a cable reel detected by NEETRAC's quality assurance program.
Mechanical / Environmental Testing
NEETRAC's facilities include environmental chambers and specialized test setups, allowing for precise simulation of normal and extreme environmental conditions. A current project focuses on subjecting electrical cables to temperature cycling while applying mechanical tension to establish an industry benchmark.
Image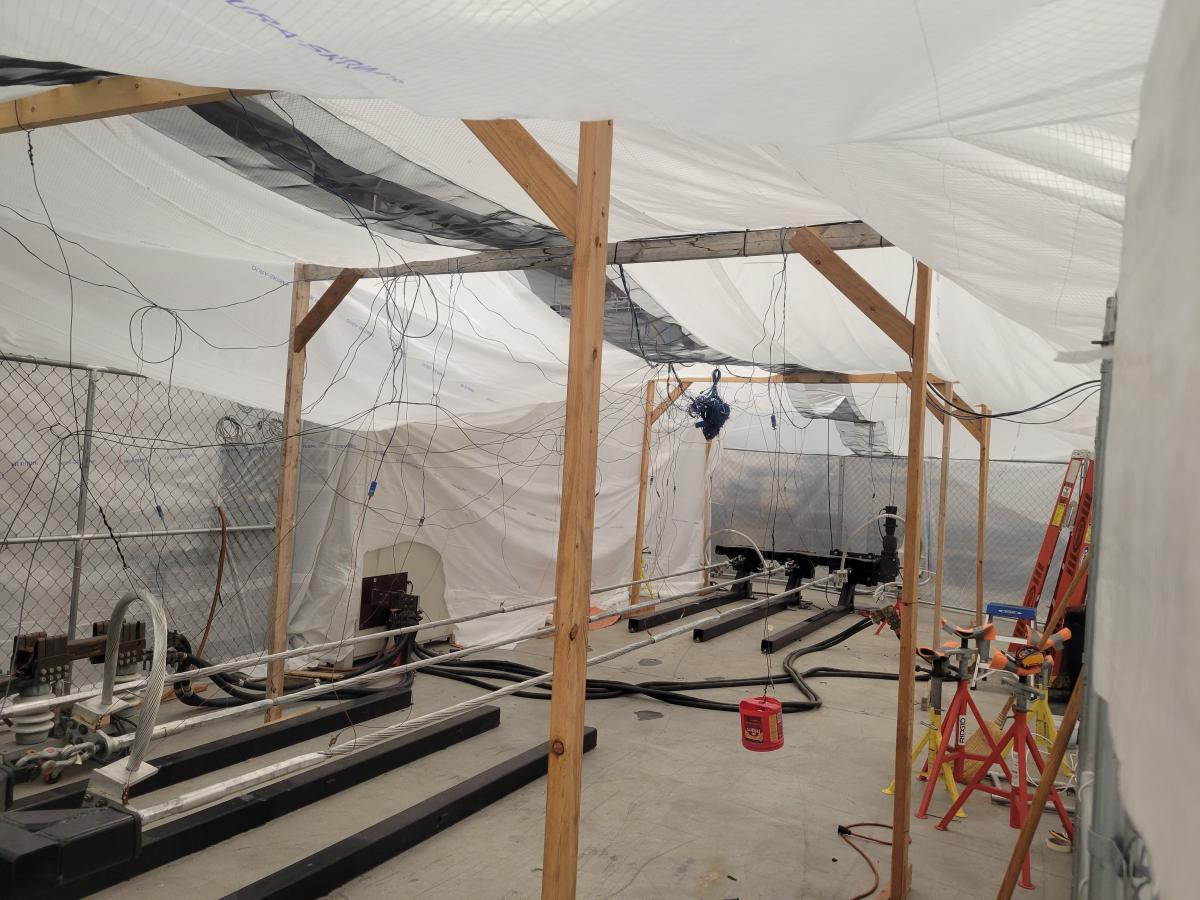 An environment test constructed to test the resilience of cables under harsh conditions. 
Failure Analysis
While electrical failures are undesirable, they can potentially generate a wealth of information. NEETRAC's thorough failure investigations allow manufacturers to improve designs and processes. Utilities can use the results to improve application, installation, and maintenance practices.
Image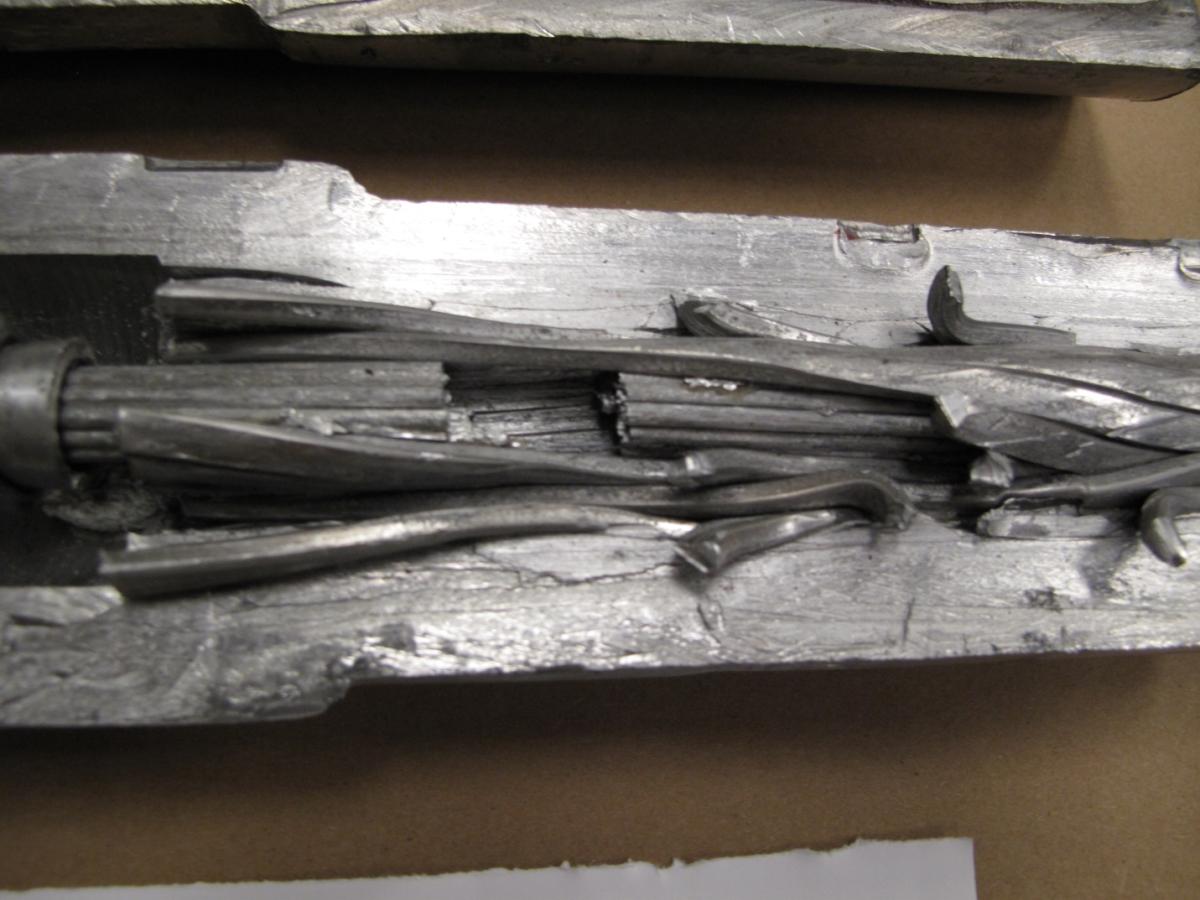 A failure analysis conducted on on an overhead line connector.
Many have heard the name, but are not really sure what it means. NEETRAC is the National Electric Energy Testing Research and Applications Center located off campus in Forest Park, Georgia.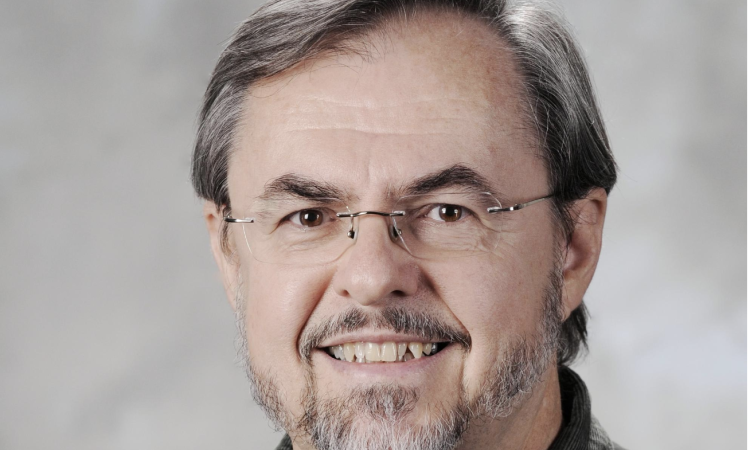 In the year 1996, the future of the Georgia Power Research Center was quite dim. Georgia Power was experiencing lean times and was going through its second or third downsizing.
Blank Space (small)
(text and background only visible when logged in)