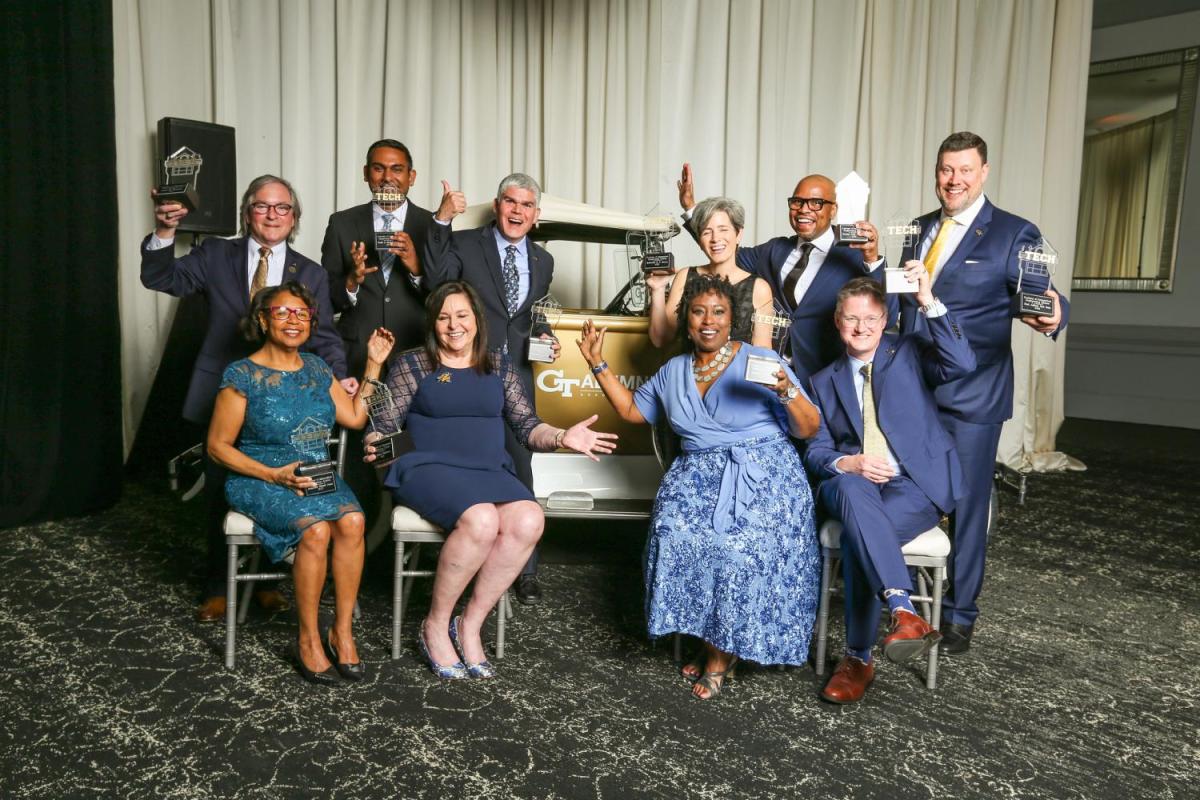 The College of Engineering Alumni Awards Induction Ceremony for 2023 took place on April 29 in Atlanta, honoring exceptional graduates across five prestigious categories. The ceremony, which is a highlight of the College's annual calendar, recognized alumni from all eight Schools within the College.
This year, five outstanding graduates from the School of Electrical and Computer Engineering (ECE) were honored for their significant contributions to the Institute, profession, field, or society at large: Michael Burnette (B.E.E. 1998), Mel Coker (B.E.E. 1987), Fernando Mujica (Ph.D.E.C.E. 1999), Vedant Pradeep (B.Cmp.E. 2019), and Kartik Sundareswaran (B.S.Cmp.E. 2003).
The ceremony is a testament to the College's commitment to excellence and the remarkable achievements of its alumni. Read more about ECE honorees below. You can also read more about the 2023 Alumni Awards and view pictures from the event.
The Dean's Impact Award recognizes the efforts of alumni who are focused on developing globally relevant, locally sustainable innovations that meet societal challenges across the world.
Image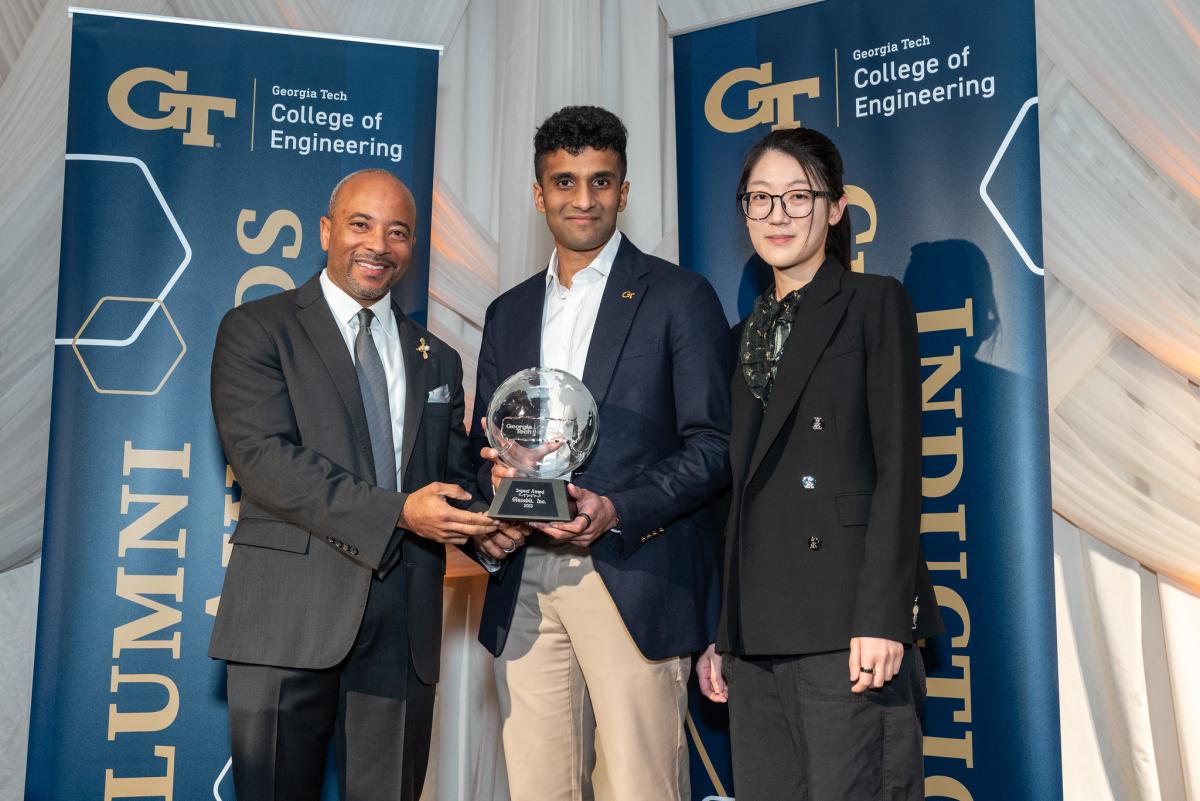 Vedant Pradeep (middle) with Dean Raheem Beyah (left) and fellow Dean's Impact Award honoree Ziyi Gao (right).
Vedant Pradeep
B.Cmp.E. & B.Ch.B.E. 2019
CEO, Bluccobit, Inc.
Pradeep and and his fellow Dean's Impact Award honoree, Ziyi Gao, met on campus in 2015 in their introductory ChBE 2100 class. They became partners and co-founded what would become Glucobit in 2018 while participating in the Georgia Tech CREATE-X program. Their initial goal was helping people detect nocturnal hypoglycemia, but the duo pivoted in 2019 toward helping people reduce alcohol use.
Their app, Reframe, is a neuroscience-based platform that helps people reduce alcohol consumption and discover the best versions of themselves. Reframe has become the leading direct-to-consumer alcohol reduction and habit change platform. It has helped more than 2 million people across 80 countries reduce alcohol use and often is among the most downloaded health and fitness apps worldwide. They have raised more than $27 million in venture capital funding from top investors such as Y Combinator, Goodwater Capital, Harvard University, Atlanta Ventures, HOF Capital, and CREATE-X. Vedant and Ziyi's work has been featured in TechCrunch, Fortune, Forbes, Yahoo Life, Independent, the Atlanta Journal-Constitution, and more.
Alumni Academy of Distinguished Engineering Alumni
The Academy of Distinguished Engineering Alumni Award recognizes alumni who have provided distinguished contributions to the Institute, profession, field, or society at large.
Image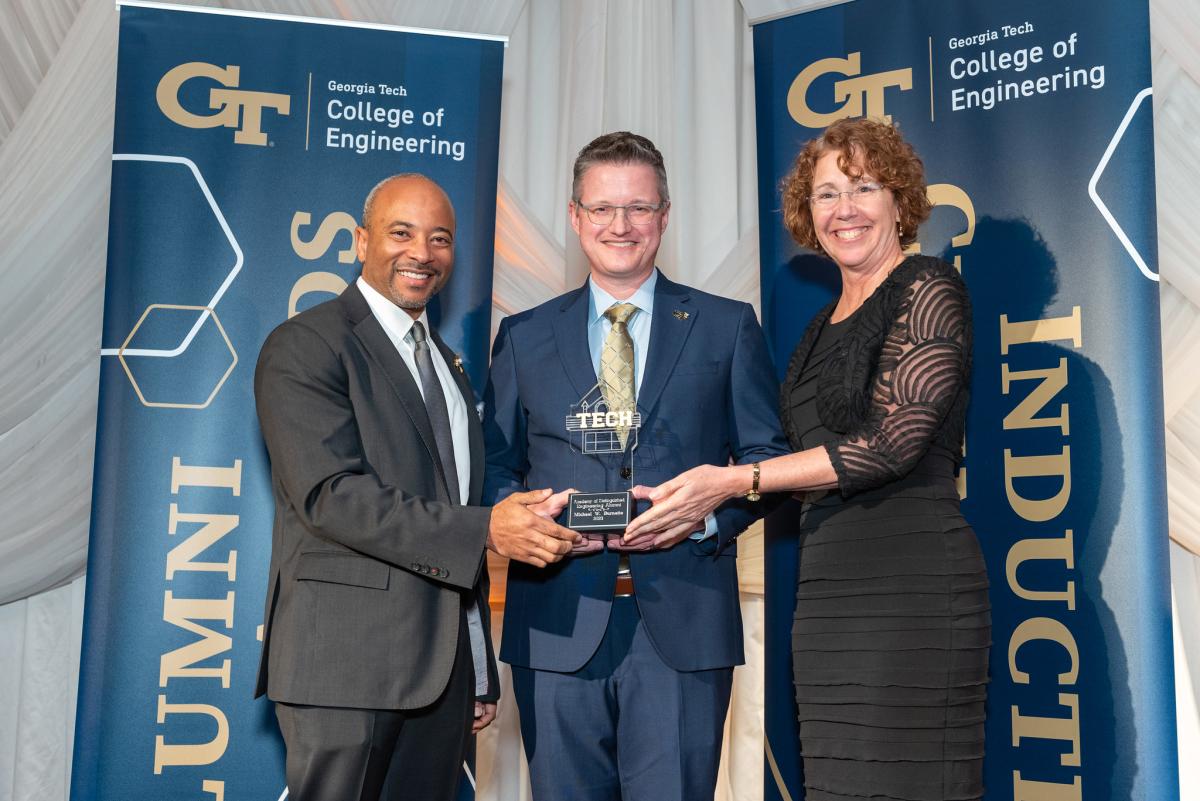 Michael Burnette (middle) receiving the Academy of Distinguished Engineering Alumni Award from Dean Beyah (left) and co-host Sandra (Sandy) Magnus).
Michael W. Burnette
B.E.E. 1998, M.S.M.O.T. 2006
Chief Service Officer, Leapfrog Services
After receiving his electrical engineering degree and a master's in the Scheller College of Business, Michael spent a decade working in IT management and computer forensics in the legal industry. He then became vice president of information technology for Peak Campus Management, where he pioneered residential technology solutions for student and military housing. Michael served as CTO for Intelliteach, a global legal managed service provider. During his tenure there, the company executed mergers and acquisitions to become the largest legal-specific business process outsourcer in the U.S. Today, Michael serves as chief service officer for Leapfrog, a multi-vertical technology business process outsourcer and is responsible for the delivery of extraordinary services to companies across the nation.
Michael currently serves on the ECE Advisory Board. He lives in Atlanta with his wife, Eniko, and a cat, BuBu. The family has made a Georgia Tech Founders Council gift to provide scholarships for international students.
Image
Fernando Mujica (middle) receiving the Academy of Distinguished Engineering Alumni Award from Dean Beyah (left) and co-host Sandra (Sandy) Magnus).
Fernando A. Mujica
Ph.D.E.C.E. 1999
Director of Engineering, Special Projects Group, Apple, Inc.
Fernando has been with Apple, Inc. since 2015. He also has been an adjunct professor in the Department of Electrical Engineering at Stanford University since 2014, teaching digital signal processing. From 2000 until 2015, Fernando was with Texas Instruments, Inc. He and his teams developed innovative signal processing solutions in a wide range of applications, including communications systems, pre-distortion of RF power amplifiers, analog to digital converter compensation, loudspeaker protection, signal processing very large-scale integration architectures, massively parallel multi-core programmable co-processors, and autonomous systems.
Fernando's research focuses on embedded implementations of signal processing systems. He has been a research collaborator in various projects at Georgia Tech and other universities for almost 20 years. He has authored or co-authored more than 30 peer-reviewed publications and has been granted more than 25 U.S. patents. In 2009, he was recognized by the Society of Hispanic Professional Engineers with the National STAR Professional Role Model Award.
Fernando served on the ECE External Advisory Board from 2013 until 2022. Fernando earned his undergraduate and master's degrees in electronics engineering from Universidad Simón Bolívar in Venezuela.
Image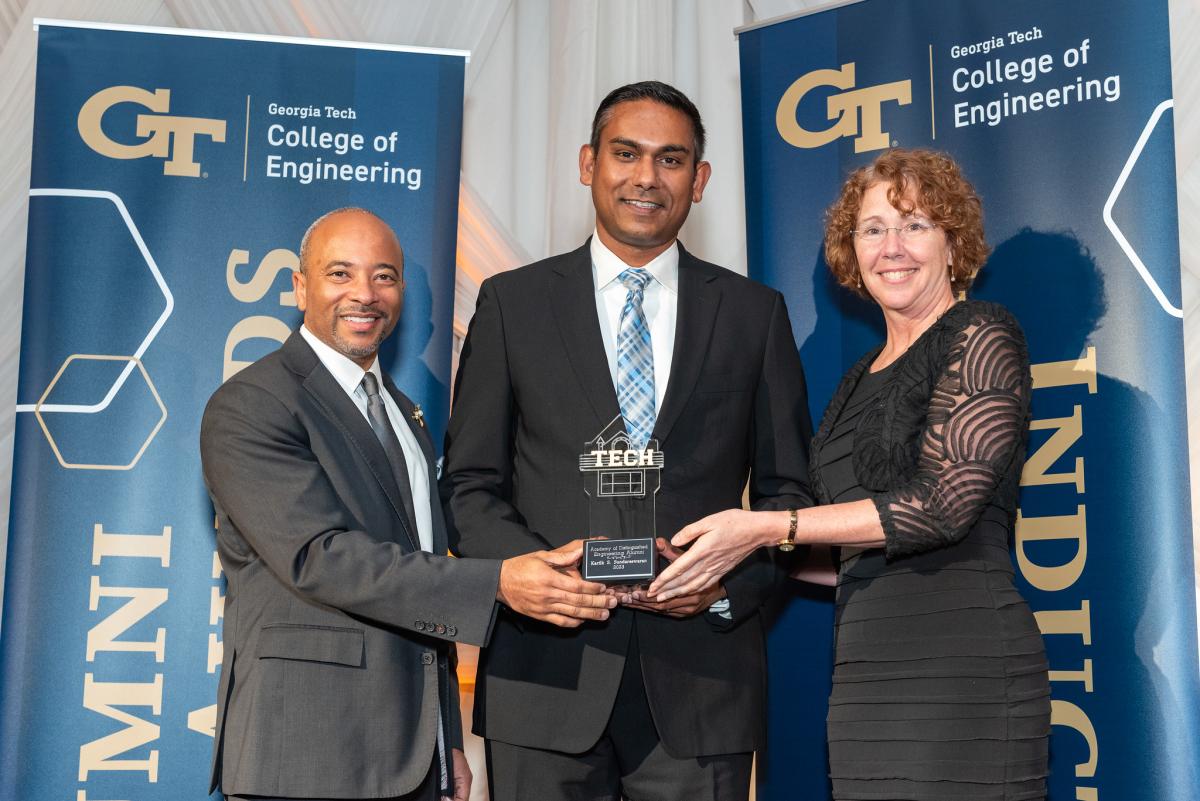 Kartik Sundareswaran (middle) receiving the Academy of Distinguished Engineering Alumni Award from Dean Beyah (left) and co-host Sandra (Sandy) Magnus).
Kartik S. Sundareswaran
B.S.Cmp.E. 2003, M.S.E.C.E. 2007, Ph.D.Bio.E. 2008
Divisional Vice President, Global Clinical and Regulatory Affairs, Abbott Heart Failure
Kartik's Georgia Tech doctoral thesis involved characterizing the hemodynamics of children with single ventricle physiology using phase-contrast, magnetic resonance imaging. His work led to numerous awards, including the American Heart Association Pre-Doctoral Fellowship in 2007.
After earning three Georgia Tech degrees, Kartik joined Abbott in the Heart Failure (HF) division as a clinical scientist to continue his research work. During his tenure in the HF division, Kartik was instrumental in advancing the clinical science of patients with end-stage heart failure. His research led to more than 30 scientific publications, including the highest-cited study among all scientific articles published in the Journal of Thoracic and Cardiovascular Surgery over a 10-year period.
In his current role, Kartik serves on the executive leadership team of the Abbott Heart Failure Division. He is responsible for generating scientific clinical evidence and obtaining global regulatory approvals, gaining global reimbursement, and furthering the understanding of the human impact of Abbott's Heart Failure products.
In his spare time, Kartik spends time with his wife, Ashwini, and twin boys, Dhruv and Atharv.
Membership in the Engineering Hall of Fame is reserved for individuals who have made meritorious engineering or managerial contributions during their careers.
Melinda (Mel) Coker
B.E.E. 1987
Executive Vice President of Strategy and Operations (retired), AT&T
Not pictured.
Mel worked in the telecom, media, and technology industry for more 30 years before retiring from AT&T in 2019. She led AT&T's strategy, consumer research, business analytics, and operations for its consumer line of business that served more than 135 million customers and generated $110 billion in annual revenues. Mel also drove AT&T's 5G and fiber strategic investment and development plans and led the transformation of the consumer wireline business from legacy to next generation products.
She is the co-founder the EMBARC Program, a non-technical skills program equipping underrepresented engineering students to be successful and stand out as leaders in their first job after graduation.
Mel is an avid runner, completing 22 marathons to date. She's also active in the Atlanta community, including serving as chair of the Norcross First Methodist Church Creation Kids Preschool board and working with the Toco Hills Community Alliance to help those experiencing food insecurity.
She has served on the Georgia Tech Alumni Association Board of Trustees, ECE Advisory Board, and the ECE Diversity and Inclusion Council. She has contributed to Roll Call for 41 years and has endowed several Georgia Tech scholarships. Mel earned her Master of Business Administration from Georgia State University in 1991