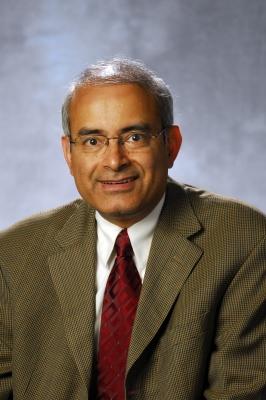 Official Job Title
Professor
Biography
Yogendra Joshi grew up in the Himalayan foothills and graduated from the Indian Institute of Technology, Kanpur with a B. Tech. in Mechanical Engineering in 1979. He joined the group of Professor Benjamin Gebhart for graduate studies, receiving his M.S. in Mechanical Engineering in 1981 from the State University of New York, Buffalo and Ph.D. in Mechanical Engineering and Applied Mechanics in 1984 from the University of Pennsylvania.
Prior to joining the Georgia Tech faculty in August 2001, he held academic positions at the University of Maryland, College Park from 1993 to 2001, and at the Naval Postgraduate School in Monterey, California from 1986 to 1993. He also worked in the semiconductor assembly industry from 1984 to 1985 on process thermal model development. Professor Joshi's research involves thermal and fluid flow issues associated with electronic devices, packages and systems. He is the author or co-author of fifty journal articles and numerous conference papers. He is also involved in developing internet based distance learning programs in thermal management of electronics.
Dr. Joshi holds a joint appointment at Georgia Tech between the School of Mechanical Engineering and the School of Electrical and Computer Engineering.
Research
Thermal management of electronic, telecommunication and power devices and systems
Computational modeling of semiconductor manufacturing and assembly processes and equipment
Computational modeling of thermal and electro-thermal phenomena
Microfabricated thermal management devices and sensors
Distinctions & Awards
Fellow of the American Society of Mechanical Engineers (ASME)
Co-recipient of 1999 Curriculum Innovation Award of ASME
Associate Technical Editor, ASME J. Electronic Packaging (1996-2001)
Received Faculty Performance Award at the Naval Postgraduate School, 1989 -1992 review cycles.
Friday, 24 February 2023 12:06 PM EST