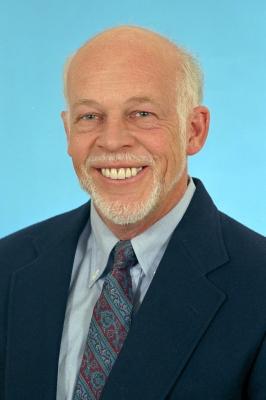 Official Job Title
RBW Faculty-Instruction
Emeritus Length of Service
1970-2005
Biography
Dr. Russ Callen was born in Selma Alabama, and attended public schools there through high school. He obtained the A.B. in physics from Princeton University in 1965 and the M.S. and Ph.D. in applied physics from Stanford University in 1967 and 1971, respectively.
He has been a faculty member in the School of Electrical and Computer Engineering at Georgia Tech since 1970. He is the co-author of "An Introduction to Lasers and Their Applications", one of the first undergraduate laser texts. He has enjoyed teaching a wide variety of courses at Tech, including lasers, electro-optics, circuits, digital and analog electronics, materials, machinery, systems, and electromagnetics, and has developed a course: "Electrical Engineering in American Society", jointly taught with faculty in the School of History, Technology, and Society. He is the course administrator and principal instructor of short courses on preparation for the Fundamentals of Engineering and the Principles and Practice of Engineering (PE) exams.
For leisure, he enjoys swimming and canoeing.
Research
Engineering educational methods
Integration of engineering and the humanities
Professional engineering education
Distinctions & Awards
NASA Certificate of Recognition for Laser Scanning System, 1984.
Engineer of the Year in Education in Metro-Atlanta, 1989.
Tau Beta Pi Eminent Engineer, 1990. · Georgia Institute of Technology Outstanding Service Award, 1992.
Georgia Institute of Technology Outstanding Continuing Education Award, 1996
Order of Omega Award for Excellence in Classroom Instruction and Dedication to Students
School of Electrical and Computer Engineering Richard M. Bass-Eta Kappa Nu Outstanding Teacher Award
Friday, 31 March 2023 2:32 PM EDT