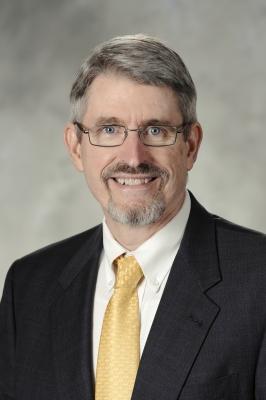 Official Job Title
Professor
Endowed Chair and Professorships Titles
John B. Peatman Distinguished Professor
Georgia Research Alliance Eminent Scholar
Job Title(s)
Director, Arbutus Center for the Integration of Research and Education
Technical Interest Group(s)
Biography
Edward J. Coyle received his B.S. degree in Electrical Engineering from the University of Delaware in 1978, and master's and Ph.D. degrees in Electrical Engineering and Computer Science from Princeton University in 1980 and 1982. From 1982 through 2007, he was a faculty member at Purdue University, where he served at various times as assistant vice provost for research, co-director of the Center for Wireless Systems and Applications, and co-founder of both the Vertically-Integrated Projects (VIP) program and the Engineering Projects in Community Service (EPICS) program. During the 2006-07 academic year, he was the Kenan Trust Visiting Professor at Princeton University.
Dr. Coyle joined Georgia Tech in 2008 and is currently the Arbutus Chair for the Integration of Research and Education at Georgia Tech, a Georgia Research Alliance Eminent Scholar, and director of the Arbutus Center for the Integration of Research and Education.
Research
Computer and Sensor Networks
Signal and Image Processing
Engineering Education
Distinctions & Awards
Innovation Award for the VIP Consortium, from ABET, Inc., with the Directors of all VIP Sites, 2019.
Distinguished Achievement Award, from the Department of Electrical and Computer Engineering, University of Delaware, 2019.
Award for Advancing Civic Engagement and Socially Beneficial Science and Engineering, from the Office of the President, Stony Brook University, 2018.
Oustanding Service Award, Department of Electrical and Computer Engineering, University of Delaware, 2016.
Innovative Program Award, for the creation of the EPICS Program, from the ECE Department Heads Association, with L.H. Jamieson, 2006.
Bernard M. Gordon Prize for Innovation in Engineering and Technology Education from the National Academy of Engineering, with L.H. Jamieson and W.C. Oakes, 2005.
First Annual Governor's Award for Outstanding Volunteerism, presented by the State of Indiana to the EPICS Program, 2003.
Fellow of the IEEE for "Contributions to the theory of nonlinear signal processing" 1998.
Distinguished Engineering Alumnus of the University of Delaware, 1998.
General Chair of the 1997 IEEE/EURASIP Workshop on Nonlinear Signal Processing.
Chester F. Carlson Award for Innovation in Engineering Education, from the American Society for Engineering Education, with L.H. Jamieson, 1997.
Class of 1922 Award for Outstanding Innovation in Helping Students Learn, Purdue University, (1997) with L.H. Jamieson, 1997.
Myril B. Reed Best Paper Award from the 32nd Midwest Symposium on Circuits and Systems, with M. Gabbouj, 1989.
ASSP Society's Best Paper Award for Authors under age 30, with J.P. Fitch, 1986.