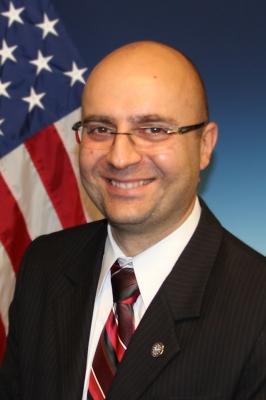 Official Job Title
Professor
Endowed Chair and Professorships Titles
Weitnauer Techn.Trans. Chr
Job Title(s)
Georgia Research Alliance Eminent Scholar
Technical Interest Group(s)
Biography
Dr. Angelos D. Keromytis is Professor, John H. Weitnauer, Jr. Chair, and Georgia Research Alliance (GRA) Eminent Scholar at the Georgia Institute of Technology. His field of research is systems and network security, and applied cryptography.
He came to Georgia Tech from DARPA, where he served as Program Manager in the Information Innovation Office (I2O) from 2014 to 2018. During that time, he initiated five major research initiatives in cybersecurity and managed a portfolio of nine programs, and supervised technology transitions and partnerships with numerous elements of the Department of Defense, the Intelligence Community, Law Enforcement, and other parts of the U.S. government. For his work, he received the DAPRA Superior Public Service Medal, and the Results Matter Award. Prior to DARPA, he served as Program Director with the Computer and Network Systems Division in the Directorate for Computer and Information Science & Engineering (CISE) at the National Science Foundation (NSF), where he co-managed the Secure and Trustworthy Cyberspace (SaTC) program and helped initiate a number of cross-disciplinary and public-private programs. Prior to his public service tour, Dr. Keromytis was a faculty member with the Department of Computer Science at Columbia University, where he founded the Network Security Lab.
Dr. Keromytis is an elected Fellow of the ACM and the IEEE. He has 53 issued U.S. patents and over 250 refereed publications. His work has been cited over 20,000 times, with an h-index of 72 and i10-index of 229. He has founded two new technology ventures, StackSafe and Allure Security Technology. He received his Ph.D. (2001) and M.Sc. (1997) in Computer Science from the University of Pennsylvania, and his B.Sc. in Computer Science from the University of Crete, Greece. He is a certified PADI Master Instructor, with over 500 dives.
Research
Computer Network Operations
Computer and Network Security
Software Security
Access Control
Cryptographic Protocols
Privacy
Distinctions & Awards
John H. Weitnauer, Jr. Chair
GRA Eminent Scholar
IEEE Fellow, 2018
ACM Fellow, 2017
ACM Distinguished Scientist, 2012
Thursday, 23 February 2023 4:29 PM EST