Image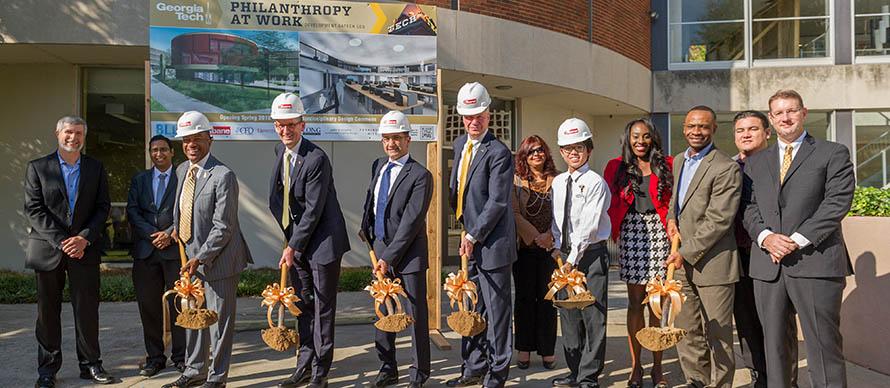 There's a difference between solving a problem and uncovering opportunity.
Equal parts education, inspiration, and dedication, our ideas and applications push boundaries, help redefine industries, and shift the way we think about opportunity.
Our faculty and students work together to deliver smart solutions time and again.
At Georgia Tech ECE, we don't just imagine what could be—we make it happen. And we need you, our corporate partners, to help us make it happen.
Giving Opportunities
Private support gives Georgia Tech the resources to take the lead in new initiatives, to weather cyclical changes in support from government, and to make long-term investments in constantly changing technology—often before needs or opportunities are recognized by others. Your support can be directed to ECE faculty, students, and facilities through the following corporate giving programs:
Faculty Support
Chair endowments
This means that the earnings from invested funds support an academic position. Endowed chairs attract, sustain, and retain eminent teacher/scholars in specialized areas across ECE. Senior faculty chair holders attract talented students and faculty, stimulate research, and help leverage funding.
Professorships
Income from these named endowments support outstanding faculty. Professorships give faculty the resources to remain at the forefront of teaching and research. The funding is used to seed research projects and for travel, equipment, and student research assistants.
Junior faculty awards
These awards given to the most promising junior faculty members. They help Georgia Tech retain and attract faculty who will be the leading teachers and scholars of tomorrow. Five-year grants encourage innovation in teaching and research, and nurture professional advancement during the critical pre-tenure years.
Student Support
Named undergraduate scholarships and graduate fellowships
These awards attract the most promising students to ECE. Recruiting the most outstanding and diverse undergraduate and graduate students is extremely competitive. ECE needs additional resources like this to expand and enhance undergraduate and graduate support.
Student organization support
Support for student organizations, such as the student chapter of IEEE, Eta Kappa Nu (student honors society), and Women in ECE, enrich the educational experience of ECE students and contribute to the quality of student life.
Internship and co-op opportunities
Work experience is a crucial part of ECE undergraduate education, with nearly half of ECE students participating in one of our two work-study programs.
Student awards
Special awards can be given to students in recognition of outstanding scholarship or leadership within ECE.
Senior Design Experience
External support for our senior design teams, as well as our end-of-semester Capstone Expo showcase, facilitates a rich academic experience for our senior students. Industry partners that sponsor Senior Design benefit from exclusive recruiting opportunities; corporate exposure at the GT Capstone Expo and on our websites; and creative solutions to your engineering problems—designed, built, and tested.
General Support
Current operations funding
Unlike endowments, gifts for current operating funds are available for use in the year received. Unrestricted gifts support core academic and program needs, and provide seed funds for new academic initiatives.
Outreach activity support
Outreach programs to K-12 teachers and students, as well as university students, seek to educate the public about the exciting field of electrical and computer engineering and recruit future students to the School.
Permanent endowments
Georgia Tech encourages school-based, unrestricted endowments to provide maximum flexibility in meeting pressing needs and support for new initiatives.
Facility support
Opportunities include naming the School of ECE building, naming a laboratory, contributing to the ECE building (Van Leer) renovation, or giving an equipment gift.
Let us know what you would like to achieve through Georgia Tech ECE's corporate giving programs. We're confident we can make it happen.
Contact Etta Pittman for more details.