Image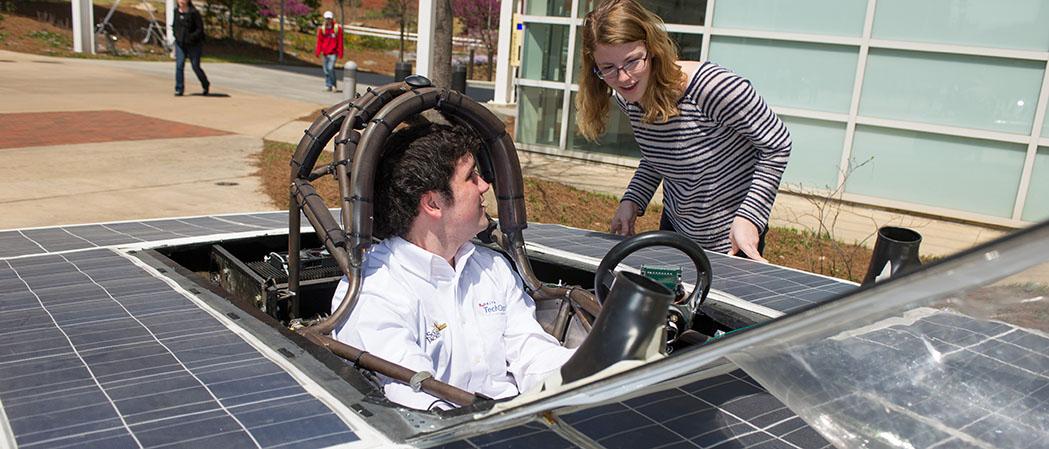 Student Organizations
In addition to 300+ Institute-wide student organizations, a number of ECE-specific organizations exist within the School. Involvement in student organizations is a great way to meet people, engage in outreach activities, and build your resume.
The goal of ECE Ambassadors is to increase ECE student involvement in admissions events, community outreach, and interaction with faculty, and to encourage the development of future Georgia Tech electrical and computer engineers.
Eta Kappa Nu is the honor society for Electrical and Computer Engineering. Eta Kappa Nu was founded in 1904 at the University of Illinois at Urbana-Champaign and now has nearly 200 chapters. Eligibility depends mostly on scholarship, personal character, voluntary services, and distinguished accomplishments. For undergraduates, the most important qualification is scholarship during the first years in college.
The Hive is the organization overseeing the ECE Makerspace. The Hive's goal is to create a group of student volunteers that support a space in Van Leer where students of any background can find help for embedded systems and electronics-based projects. Using the The Hive's equipment and services is free for all students! Those interested in becoming a volunteer peer instructor must complete the certification process - see The Hive's website for more details.
Founded in 1884, The Institute of Electrical and Electronics Engineers is the world's largest technical professional community. IEEE at Georgia Tech is a student branch of National IEEE with over 800 members, making GT IEEE the largest student branch in the nation AND in the western hemisphere.
The purpose of this organization is to foster a supportive community of fellow ECE graduate students. We plan social events designed to enhance camaraderie and foster greater collaboration among ECE graduate students as they pursue their graduate studies. In addition, we facilitate a mentoring program designed to help new graduate students navigate their first semester at Georgia Tech. Every year, we also participate in graduate student recruitment by hosting events and facilitating programs that connect current and prospective students. We send out information about upcoming events and additional opportunities through our email list; please click here to sign up.
Women in Electrical and Computer Engineering (WECE) was established in fall 2004 by a group of five women, consisting of both undergraduate and graduate students. The initial objective of WECE was to create a community within the ECE department at Georgia Tech where women could seek friendship, support, and advice regarding their academic, professional, and personal life.
Additional engineering and science organizations of interest to ECE students include:
American Society for Engineering Education
Black Graduate Student Organization
Georgia Tech Society of Black Engineers
Society of Hispanic Professional Engineers